Top Castles in Wales
By Viator, March 2018
Wales has more castles per square mile than any other country in the world. From Roman forts and royal palaces to medieval motte-and-bailey castles—be sure to add these Welsh castles to your itinerary.
Cardiff Castle
Perched on a grassy mound in the heart of historic Cardiff, this castle stands out as the country's flagship fortress. A 2,000-year-old Roman fort transformed into a grand Victorian manor by the prestigious Bute Family, it's one of Wales' most important heritage sites. Visitors can admire the grand interiors by architect William Burges, stroll the beautiful gardens, and explore the castle's underground tunnels, which were used as air raid shelters during World War II.
Caerphilly Castle
Just north of Cardiff, the 13th-century Caerphilly Castle is the largest castle in Wales and one of Britain's greatest surviving medieval castles. Its impressive ramparts, including elaborate moats and water defenses, made it a worthy setting for former guests like King Edward II. These days, Caerphilly is equally famous for its annual Big Cheese Festival, held each summer.
Rhuddlan Castle
Hidden away in the moorlands of North Wales, Rhuddlan Castle is best known for its association with King Edward I, who built it during the 13th century. The castle boasts a remarkably engineered fortification system, and it's linked to the north coast via the River Clwyd.
Caernarfon Castle
Another one of King Edward I's castles, Caernarfon Castle was built in 1283 on the banks of the Menai Strait. Visitors can tour the interior of the UNESCO World Heritage Site, explore exhibitions on the Prince of Wales and the British army, and look out over the Snowdonia National Park from the Eagle Tower.
Conwy Castle
With its dramatic fortifications and imposing drawbridge, it's easy to see why Conwy Castle is considered Edward I's most impenetrable castle. After admiring the fortress from across the Conwy River, head inside to walk the ramparts and enjoy incredible views over Snowdonia.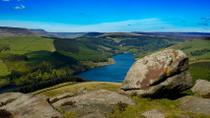 16 Reviews
Escape busy London on a 5-day small-group tour to North Wales and the heart of England! Visit Stratford-upon-Avon to trace the footsteps of William ... Read more
Location: London, United Kingdom
Duration: 5 days (approx.)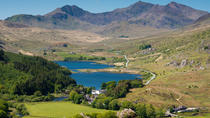 See the very best that England and Wales have to offer on a tour that showcases the beauty of the country's natural wonders and the majesty of the many ... Read more
Location: London, United Kingdom
Duration: 9 days (approx.)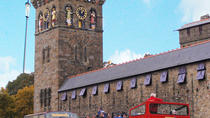 53 Reviews
The best way to see Cardiff! Join us for a 50-minute City Sightseeing hop-on hop-off bus tour, including Cardiff Castle, Techniquest and Millennium Stadium. ... Read more
Location: Cardiff, United Kingdom
Duration: 1 day (approx.)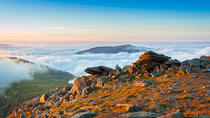 Enjoy a day of mountains, castles and legends on this driver-guided day trip through the landscapes of Snowdonia with hotel transport Bangor. The wild ... Read more
Location: Bangor, United Kingdom
Duration: 8 hours (approx.)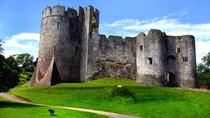 1 Review
Hop over the River Severn and cross the border from England into Wales with a full-day tour from Bath that takes in several of South Wales's top attractions. ... Read more
Location: Bath, United Kingdom
Duration: 9 hours (approx.)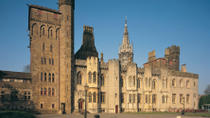 7 Reviews
This tour takes you to the capital city of Wales, Cardiff for a full day of exploring. This trip includes a sightseeing tour with a local guide, entrance to ... Read more
Location: London, United Kingdom
Duration: 1 day (approx.)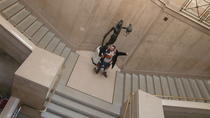 2 Reviews
Two hour guided walking tour of more than 30 memorable Doctor Who filming locations in Cardiff City Centre featured in the show since 2005.
Location: Cardiff, United Kingdom
Duration: 2 hours (approx.)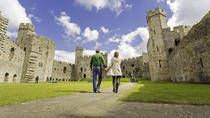 Fellow of the Royal Historical Society Dr Marc Morris, weaves the fascinating story of these remarkable castles and the personalities that forged them. Edward ... Read more
Location: Caernarfon, United Kingdom
Duration: 2 days (approx.)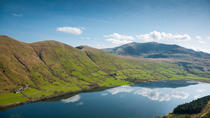 Tread in the footsteps of legends on this driver-guided day trip of Snowdonia - filled with mountains, castles and legends - with hotel transport from ... Read more
Location: Holyhead, United Kingdom
Duration: 8 hours (approx.)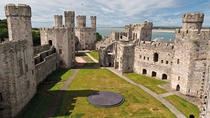 A day of mountains, castles and legends! The wild mountains of Snowdonia offer astonishing contrasts within a short distance on this private driver-guided day ... Read more
Location: Llandudno, United Kingdom
Duration: 8 hours (approx.)