No reviews, be the first!
Address:

Agiou Dimitriou Street 97, Thessaloniki, Central Macedonia 54631, Greece

Hours:

Basilica: Daily 8am–10pm; Crypt: Mon 1.30pm–7.30pm; Tue–Thur, Sun 8am–7.30pm; Fri 9am–11pm
Thessaloniki is home to one of the world's largest caches of Byzantine architectural treasures, thanks to the city being ruled by Constantinople from the fifth century AD to the 13th. The empire's legacy can be seen in what's left of the city walls; in the many Byzantine churches; in Latomou Monastery and, most importantly, in the church and crypt of Ayios Dimitrios. Named after the city's patron saint, the Christian martyr Dimitrios, the church started life as a small temple – itself built over the
remains of a Roman baths complex – in the fourth century and under Byzantine rule it took its present shape as a five-aisled basilica, built of stone with layers of arcaded windows and two stumpy towers. In the Middle Ages Thessaloniki became part of the Ottoman Empire; in 1493 Ayios Dimitrios was transformed into a mosque and its original Christian frescoes and mosaics were plastered over. It remained a mosque until the liberation of the city in 1912, but burnt down five years later. Restoration
took several decades and the church finally reopened in 1949, with only a few surviving relics of its original decoration, including the glittering seventh-century mosaics around the altar. The subterranean crypt was rediscovered after the 1917 fire and houses the silver reliquary of St Dimitrios as well as a museum showcasing early Christian and Byzantine sculptures, coins and fragments of pottery rescued from the blaze.
Practical Info
Agiou Dimitriou Street 97, Thessaloniki. Open: basilica daily
8am–10pm; crypt Mon 1.30pm–7.30pm; Tue–Thur, Sun 8am–7.30pm; Fri 9am–11pm. Admission free. No shorts or sleeveless shirts. Best reached on foot in about five minutes from the railway station.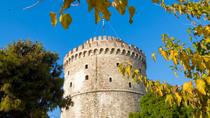 A half-day city tour of Thessaloniki passing through the town's main sights. See the White Tower and the Old Town, before making a stop at Agios Demetrius ... Read more
Location: Thessaloniki, Greece
Duration: 4 hours (approx.)