Nazareth Tours
Located in northern Israel, Nazareth is the largest Arab city in the country, but enjoys a diverse population of about 60,000 people. Best known for its religious significance in the Christian faith, Nazareth is thought to be the home of Joseph and Mary, and as such there are many holy places that draw people from all over the world. Nazareth is not only a destination for the devout, however, and is home to some of the most beautiful churches in the Middle East. 
The Basilica of the Annunciation (כנסיית הבשורה) is an incredible modern church built upon the ruins of churches that date back to the time of the Crusades, the remains of which are still visible on the lower level. The mix of architectural styles and stunning works of art make it one of the most unique churches in Israel. 
Symbolizing the Nazareth Municipality is the structure known as Mary's Well (באביב של הבתולה מריה), connected to which is the recently discovered Ancient Bath House, an amazing network of arches that date back to Roman times. Both are beautifully restored, and the adjoining souvenir shop is full of interesting information. 
For a taste of modern culture, visit the Diwan El Lajun (תיאטרון דיוואן אל לאג'ון), a multicultural performance arts center. The center produces plays, concerts, literature and poetry readings, dance events, story-telling, circus acts, and much more. There are regular shows in Arabic, Hebrew, and English, as well as some bilingual productions, so be sure to check the schedule. 
Practical Info
The best way to reach Nazareth is via Tel Aviv, which is about 100 km (62 mi) away. If you've flown into Tel Aviv, there are regular buses from the Central Station (either the 823 or the 826), and the trip takes about 2 hours. 
If you're coming from Jerusalem, there are 2 buses daily. There are also buses from Haifa and Amman. Be aware that most transit does not run on the Sabbath or any other Jewish holiday. 
Nazareth is easily navigated by foot, though there is a public bus system that does run on Saturdays. 
Keep local traditions and rules in mind when entering churches or mosques.
173 Reviews
Visit the Holy Land sites of Nazareth and the Sea of Galilee on a day trip from Jerusalem. You'll journey across Israel's coastal plains to explore the city of ... Read more
Location: Jerusalem, Israel
Duration: 12 hours (approx.)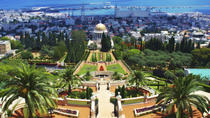 44 Reviews
Journey to Nazareth and Galilee on this full-day shore excursion from Haifa Port. As you travel by minivan, visit Nazareth's Church of the Annunciation, one ... Read more
Location: Haifa, Israel
Duration: 9 hours (approx.)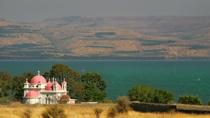 Visit the Holy Land sites of Nazareth, Tagbha, Capernaum, and the Sea of Galilee on this comprehensive 11-hour tour from Herzliya, Netanya, Tel Aviv, Ramat ... Read more
Location: Herzliya, Israel
Duration: 11 hours (approx.)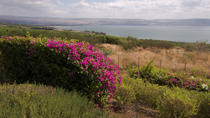 3 Reviews
Visit Nazareth, the Sea of Galilee, Capernaum and Yarendit on a full-day private shore excursion from Haifa Port! With a private guide at your side, explore ... Read more
Location: Haifa, Israel
Duration: 10 hours (approx.)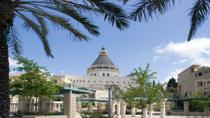 190 Reviews
Visit the Holy Land sites of Nazareth and the Sea of Galilee on a day trip from Tel Aviv. You'll journey across Israel's coastal plains to explore the city of ... Read more
Location: Tel Aviv, Israel
Duration: 10 hours (approx.)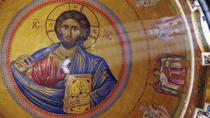 8 Reviews
Journey through Israel's holy and historical highlights on this 7-night tour from Jerusalem, with accommodation, transport and select meals included. Explore ... Read more
Location: Tel Aviv, Israel
Duration: 8 days (approx.)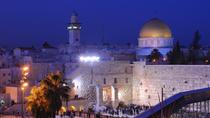 Travel to 3 countries in 17 days. Tour Israel, Jordan, and Egypt with licensed guides. Stay in great local hotels on this trip of a lifetime! All details ... Read more
Location: Tel Aviv-Yafo, Israel
Duration: 17 days (approx.)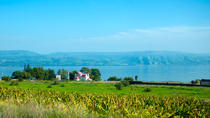 6 Reviews
Visit some of the most important sites and major locations in northern Israel in the comfort and luxury of a small group. Departing from Tel-Aviv, explore the ... Read more
Location: Tel Aviv, Israel
Duration: 10 hours (approx.)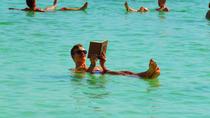 The higlights of Israel in a comprehensive 6-day package tour. The classic "must-see" of the country are visited with the assistance of our selected team of ... Read more
Location: Jerusalem, Israel
Duration: 6 days (approx.)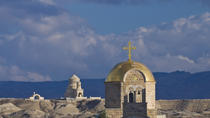 4 Reviews
Immerse yourself in Israel's religious history and heritage on this incredible 4-day tour from Tel Aviv. Visit the most noteworthy Christian and Jewish holy ... Read more
Location: Tel Aviv, Israel
Duration: 4 days (approx.)