18 Reviews
Address:

37 Bathurst Street, Richmond, Australia TAS 7025

Admission:

Adults: $9; Children: $4
Richmond Gaol Tours
Australia is a nation that was founded by convicts, and the oldest prison in modern Australia is Tasmania's Richmond Gaol. Constructed in 1825, it's the only remaining jail in Tasmania where it's still possible to tour the life of a 19th-century convict. Step inside a dark cell that was used for solitary confinement, and feel firsthand why the tiny space was known to trigger insanity. Stand inside the outdoor courtyard where morning floggings were held, and look at the infamous "cat-o-nine-tails" that was used to administer the lashings. According to some, the Richmond Gaol is still haunted by the ghosts of former convicts, and reports of moans and cold chills are much more common than you'd think. Despite the strength of its original design, the gaol was quickly overcrowded to the point of abject misery, and multiple phases to expand the jail were constructed over 15 years. As the shipments of convicts ceased from overseas, the gaol turned into a holding cell for citizens of petty crime, before eventually falling into disrepair in the middle of the 1920s. Today, as a restored and revitalized historic site that's one of Tasmania's best, visitors can not only witness the horrors that convicts had to endure, but also are given a dramatic reminder of why to stay out of jail.
Practical Info
The Richmond Gaol is open from 9am-5pm daily. Admission is $9 for adults, $4 for children, and the gaol is located 20 minutes outside of central Hobart.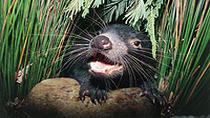 35 Reviews
Explore Richmond village and meet the Tasmanian Devil when you join this popular tour for a wonderful afternoon of history and wildlife.
Location: Hobart, Australia
Duration: 4 hours (approx.)