Taormina Cruise Port Tours
This chic resort town on Sicily's northeast coast is located high in the mountains, which means visitors can take advantage of challenging hikes and beautiful views. The medieval town's unique shops, historical monuments, sidewalk cafes and nearby beaches draw local travelers and most major cruise lines to Taormina's shores. But be prepared—dense traffic and wild drivers mean the village is best seen on foot.

How to Get to Taormina

Most ships offer shuttles to Taormina from Giardini Naxos. The trip takes about 20 minutes and requires guests switch to a minivan to navigate the narrower streets. Taxis are also available for hire and tend to be a faster—if more expensive—option. Those who prefer to skip the trek can avoid the hassle by relaxing on one of Giardini Naxos's local beaches.

One Day in Taormina

Outdoor enthusiasts shouldn't miss climbing Mt. Etna, one of the world's biggest active volcanoes. Most cruise lines and local outfits offer daylong tours that include meals, transportation and of course, a scenic hike.

Less active travelers can venture into Taormina and spend the morning sipping cappuccinos and people watching on Corso Umberto, a pedestrian walkway that winds through the town's main shopping district. Since most shops in the area close between 1 p.m. and 4 p.m., it's best to arrive early to explore the designer boutiques that line streets here. Spend the afternoon at Teatro Greco. The outdoor theater was built by the Romans in the 3rd Century and remains one of the historical highlights of any trip to Taormina. Round out the day with a relaxing walk through the Public Gardens before heading back to port for dinner overlooking the water.
Port Information
Ships anchor in Giardini Bay in Giardini Naxos, about 20 minutes from Taormina, and passengers travel to the dock on tenders. Italian is the main language, but it's easy enough to find English speakers at major tourist attractions. Taormina's primary currency is the euro and there are a number of ATMs and exchange bureaus near the port.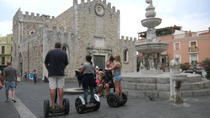 2 Reviews
Leave the cruise port and set off to explore the chic coastal town of Taormina by self-balancing electric Segway! This fun 3-hour shore excursion takes in all ... Read more
Location: Taormina, Italy
Duration: 3 hours (approx.)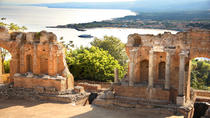 While you're in port in Taormina, your private driver will chauffeur you along the fabulous Sicilian coast to discover Taormina and Mt Etna. On this full-day ... Read more
Location: Taormina, Italy
Duration: 9 hours (approx.)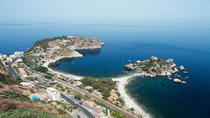 Enjoy a full-day private shore excursion from the Taormina port to Sicily's beautiful Cyclops Riviera, encompassing the fishing villages of Catania and ... Read more
Location: Taormina, Italy
Duration: 9 hours (approx.)