Bukhansan National Park Tours
Surrounded by urban areas and situated within the boundaries of the city, Bukhansan National Park serves as the fresh green lungs of Seoul. Covering an area of 50 square miles (80 square km), the park stretches over Seoul and the Gyeonggi-do province, divided into two main parts: the Bukhansan area in the south, and the Dobongsan area to the north. Both offer scenic hiking trails leading to sweeping mountain-top views.
A haven for keen hikers, climbers and nature lovers, Bukhansan National Park features crystal-clear streams rushing between gorges and granite peaks, creating a spectacular natural backdrop. More than 1,300 species of flora and fauna can be found within the park, in addition to a number of historical and cultural sites, including the 2,000-year-old Bukhansanseong Fortress and many Buddhist temples.
Hikers can visit the park on a day tour that includes hiking Mt Bukhan and then soothing any aching muscles at a relaxing Korean-style spa. Art lovers can hit the park as part of a contemporary art tour of Seoul, with a drive up Bukhansan to the Gana Art Gallery included. Alternatively, book a two-day Korean temple tour for an overnight stay at Geumsansa Temple, which is situated right on Mt Bukhansan.
Practical Info
It's easy to reach Bukhansan National Park from anywhere in Seoul. Access the park by taking Line 1 of the subway and alighting at Dobongsan Station.
Did You Know? Bukhansan National Park is listed in the Guinness Book of World Records as the most-visited national park per unit area. However, having too many visitors is gradually weakening Mt Bukhan's ecosystem, so visitors are advised to strictly follow any regulations and restrictions that are in place to help protect the area.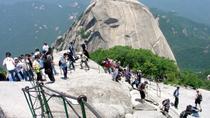 38 Reviews
Take a break from the city on this full-day tour that combines a hike on Mt Bukhan with a rejuvenating Korean spa experience. Your guide will select a 2- or ... Read more
Location: Seoul, South Korea
Duration: 8 hours 30 minutes (approx.)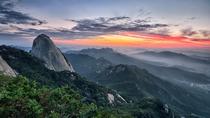 3 Reviews
Break away from the busy streets of Seoul at 9:30am and join this 8-hour private hiking tour. Bukhansan is a popular spot among locals as its natural scenery ... Read more
Location: Seoul, South Korea
Duration: 8 hours (approx.)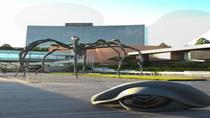 2 Reviews
Visit two top Korean museums and galleries on this contemporary art tour in Seoul. At the Leeum, Samsung Museum of Art and the Gana Art Gallery, you'll learn ... Read more
Location: Seoul, South Korea
Duration: 4 hours (approx.)