Mount St. Helens Tours
On the morning of May 18th, 1980, the largest terrestrial landslide in recorded history punched a 1300 foot hole in the side of Mount St. Helens and rained fire and ash at a speed of 300 mph down the mountainside. 30 years later, this amazing display of Mother Earth's power is still visible at the Mount St. Helens National Volcanic Monument where numerous trails extend throughout the park and give visitors an up-close and personal view of lava plains, the damage from the blast, and the ensuing life birthed from this massive volcanic eruption. From the breathtaking approach drive to the informational visitor centers, your first experiences with this majestic park are likely to be memorable ones.
Practical Info:
Mount St. Helens is an active stratovolcano in Skamania County, Washington. It is located 96 miles south of Seattle and 50 miles northeast of Portland. The Monument Visitor Centers and Johnston Ridge close seasonally during winter and reopen during late spring. Hiking and/or climbing Mount St. Helens is possible, but require a special permit obtainable through the Forest Learning Center located off of Highway 504.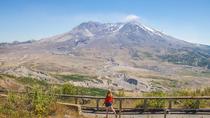 43 Reviews
Mount St Helens Volcano is a must-see attraction, and this small-group tour from Seattle is the ideal way to visit the national monument. A professional ... Read more
Location: Seattle, Washington
Duration: 12 hours (approx.)