No reviews, be the first!
Address:

(main office on Sardinia's mainland) via Iosto 7, Porto Torres, Sardinia 07046, Italy
Asinara National Park (Parco Nazionale Asinara) Tours
The island of Sardinia has small islands off its shores, and one of them - Asinara Island - is also entirely a national park in Italy.
Asinara National Park (known as Parco Nazionale dell'Asinara in Italian) was established in 1997 after it had been closed to the public for roughly 115 years. There was a prison camp on the island during the second World War, and a maximum security prison set up in the 1970s - the remote location made it a perfect place for isolating prisoners. With relatively little human intervention in the island's environment, it's also been incredibly well-preserved for park visitors to see today.
The island is home to several interesting species, with one of the most recognizable being a breed of donkey in which every animal is an albino. There are also Sardinian donkeys, mouflon sheep, wild boar, and a huge variety of birds.
Some of the historic buildings visitors can see include the remains of a monastery and the Castellaccio fortress, both of which date from the Middle Ages, as well as the now-unused maximum security prison buildings. The latter houses one of the island's visitor centers.
Practical Info
Most visits to Asinara National Park are done with a guided tour. Choose from boat tours to off-road vehicles that allow you to reach the center of the island. You can also go hiking on your own after getting to the island, but going with a guide in this remote area is usually the best idea.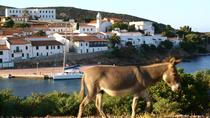 This type of trip is best suited for those who want to fully enjoy a day in contact with nature and the sea of Asinara. The start will be at 9:45 from the ... Read more
Location: Stintino, Italy
Duration: 1 day (approx.)
Enjoy a unique and fascinating experience in the Asinara National Park. A 3 hours drive from Cagliari through the beautiful Sardinian countryside up to the ... Read more
Location: Cagliari, Italy
Duration: 14 to 16 hrs
Enjoy a unique and fascinating experience in the Asinara National Park. A 3 hours drive from Cagliari through the beautiful Sardinian countryside up to the ... Read more
Location: Cagliari, Italy
Duration: 2 days (approx.)