No reviews, be the first!
Address:

Via degli Astalli 16, Rome, Puglia, Italy

Hours:

7am-12:30pm & 4-7:45pm
Church of the Gesù (Chiesa del Gesù) Tours
The 16th-century Church of the Gesu in Rome is the Jesuit mother church, for which the official name is the Chiesa del Santissimo Nome di Gesu all'Argentina. The church was built on the site of an existing church where the founder of the Jesuit order, Saint Ignatius of Loyola, had once prayed. The image of the Virgin Mary to which he prayed was preserved and is now in the Church of the Gesu (Chiesa del Gesu, in Italian). Although the church was built in what can be considered the late Renaissance, its exterior architectural style is actually something of a segue to the Baroque. Inside, the Church of the Gesu was originally quite spartan. The ornate decorations visitors see today were added in the 17th century.
The most impressive art inside the church is the massive ceiling frescoes over the nave and under the dome by Giovanni Battista Gaulli. The trompe l'oeuil effects make the ceiling appear to be three-dimensional in places that it is not.
Practical Info
Because the ceiling is one of the main attractions inside the Church of the Gesu, church officials have kindly positioned a mirror in such a way that you can admire the artwork without permanently damaging your neck.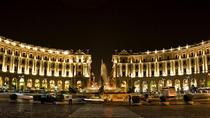 This historic audio tour will guide you through the ancient empire of Rome where you will see sights such as the mighty Colosseum, the religious area of ... Read more
Location: Rome, Italy
Duration: 1 to 3 hrs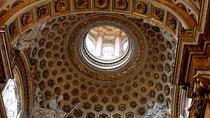 See and learn about the largest and most important churches in Rome's majestic city centre on this fully private and exclusive walking tour! Historic Churches ... Read more
Location: Rome, Italy
Duration: 5 hours (approx.)