Stretching some 250 miles (400 kilometers) from Fussen to Wurzburg, the Romantic Road links some of Germany's most picturesque castles and medieval villages—and is a must-do venture for travelers. No matter where you're based, tour options abound.
Marienberg Fortress
Sitting on the banks of the Main River in the city of Wurzburg, Marienberg Fortress was the home of the local prince-bishops for nearly five centuries. Today, the fortress houses the Furstenbaumuseum, which tells the story of 1,200 years of Wurzburg history. The fortress armory is home to the Mainfrankisches Museum, a collection of Franconian artwork and artifacts.
High Castle (Hohes Schloss)
One of the best preserved late Gothic castles in Germany, the High Castle in Fussen was once the home of Bavarian royalty and, later, a summer residence for the bishops of Augsburg. Today, it houses a collection of late Gothic and Renaissance paintings, and features an impressive 16th-century Knights' Hall and a princes' chamber with a Gothic tile stove.
Harburg Castle
Harburg Castle, one of the most impressive medieval castles in Germany and the best preserved along the Romantic Road, dates to the 11th century. A visit to the complex, which sits on the Wornitz River, will transport you back to the Middle Ages. Tours of the castle include the church, dungeon, granary, and state rooms.
Hohenschwangau Castle
The childhood home of King Ludwig II, Hohenschwangau Castle sits on a hill above Lake Alpsee in southwestern Germany, not far from the town of Fussen. Reconstructed in the 19th century in a neo-Gothic style, the castle features nearly 100 wall paintings that tell the history of Schwangau, as well as medieval German tales.
Neuschwanstein Castle
Located just off the Romantic Road but included in many tours, Neuschwanstein Castle is an iconic fairy-tale castle. Standing high on a Bavarian hill in a secluded corner of Germany, it was meant to be the residence of King Ludwig II, but he died before its completion. Today you can visit the Romanesque Revival palace's impressive state rooms and apartments—opt for a skip-the-line tour to beat the heavy crowds at this popular castle.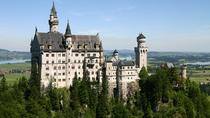 87 Reviews
Visit Neuschwanstein Castle on a half-day skip-the-line tour from Füssen! After arriving in Hohenschwangau, hop on a shuttle bus and head inside the ... Read more
Location: Füssen, Germany
Duration: 4 hours (approx.)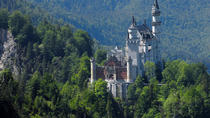 20 Reviews
This tour will be an experience that you will never forget, providing everything you are looking for on your holiday: castles, sightseeing, nature, The Alps ... Read more
Location: Füssen, Germany
Duration: 8 hours (approx.)
56 Reviews
Visit two of Germany's most famous attractions in one day with this Frankfurt Super Saver, combining two best-selling tours at a discounted price. First, ... Read more
Location: Frankfurt, Germany
Duration: 14 hours (approx.)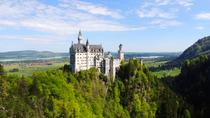 6 Reviews
Neuschwanstein Castle is wrapped in mystery and beauty. The former dream of the Wittlesbach king, Ludwig II, the castle is not only gorgeous but the perfect ... Read more
Location: Garmisch-Partenkirchen, Germany
Duration: Flexible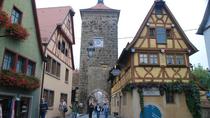 655 Reviews
Surround yourself with castles and medieval villages as you travel along the Romantic Road during a full day escorted tour from Munich to Harburg and ... Read more
Location: Munich, Germany
Duration: 11 hours (approx.)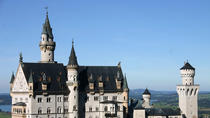 1770 Reviews
The enchanting old-world town of Fussen lies in the foot hills of the Alps, framed by one of the most breathtaking natural settings in the world. Traveling ... Read more
Location: Munich, Germany
Duration: 9 hours (approx.)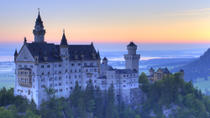 40 Reviews
Enter the fairytale kingdom of 19th-century Bavaria on this royal castle tour with an expert guide! Traveling from Munich by private vehicle, you'll visit two ... Read more
Location: Munich, Germany
Duration: 9 hours (approx.)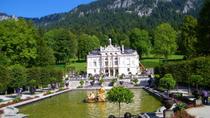 24 Reviews
Overnight in castle country on this two day tour from Munich. Your first stop is the elegant Linderhof. King Ludwig's favorite castle, which was built between ... Read more
Location: Munich, Germany
Duration: 2 days (approx.)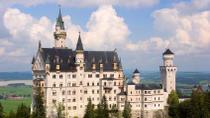 2 Reviews
Tucked away in the Bavarian foothills are two of King Ludwig II's dream abodes: Neuschwanstein Castle and Linderhof Palace. Discover both on this day trip from ... Read more
Location: Frankfurt, Germany
Duration: 14 hours (approx.)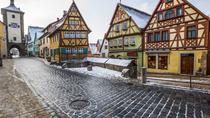 103 Reviews
Travel down the most picturesque stretch of road in Germany on this multi-day trip and marvel at historic landmarks of the Bavarian region at your own pace.
Location: Frankfurt, concludes Munich, Germany
Duration: 3 days (approx.)