Acropolis of Rhodes Tours
Keeping watch over the northeastern tip of the island, the remains of the ancient Acropolis of Rhodes dominate the skyline of Rhodes city from atop the hill of Ayios Stefanos. Although lacking the typical fortification walls of other ancient acropolis, the Hellenic city of Rhodes is notable for its architectural flair, seamlessly blending the buildings and sanctuaries into the natural landscape. As one of the most accessible and evocative of all Rhodes' ancient sites, touring the acropolis makes a popular excursion for those staying in the modern city.
Today, parts of the site are still being excavated, but the viewable ruins paint a striking portrait of the former city. The undisputed star of the acropolis is the grand Temple of Apollo, exquisitely restored and partially reconstructed as part of the Monte Smith Park, which crowns the hill. Other notable ruins include the remnants of an 800-capacity Roman Odeion theater; the Temple of Athena Polias and Zeus Polieus, featuring gigantic column drums and Doric style porticos; and traces of the 3rd century BC Hellenistic stadium, which once hosted the legendary Alioi Festival Games.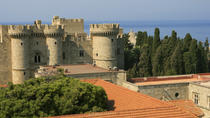 Explore the poster-child village of Lindos with its 4,000-year-old acropolis, and then explore Rhodes Old Town with its enchanting medieval sights. The ... Read more
Location: Rhodes, Greece
Duration: 7 hours (approx.)