No reviews, be the first!
Address:

Iliaz Agushi Street, Pristina, Kosovo

Hours:

Open Monday to Saturday from 10 a.m. to 5 p.m.
Ethnographic Museum (Muzeu Etnologjik) Tours
Hidden away in Pristina's Old Town, the Ethnological Museum is a must-see for visitors to Kosovo's capital. The museum is housed in the 18th century Emin Gjiku Complex, which once belonged to a local nobleman by the same name. After Gjiku and his family were expelled from Kosovo in the 1950s, the complex was initially a biology museum, eventually opening as the Ethnological Museum in 2006. 
The museum features permanent exhibitions relating to life in Kosovo during the Ottoman era and focuses on a circle of life theme, with displays focusing on birth, life, death and heritage. Divided among two buildings, visitors will see rooms furnished just as they would have been during Ottoman times, as well as a traditional "room of birth" and "room of death." Other rooms display traditional jewelry, costumes, pottery, weapons and other tools. Enthusiastic and knowledgeably English-speaking guides are available to walk you through the museum and share even more of the area's history and culture.
Practical Info
The Ethnological Museum is an annex of the Museum of Kosovo and is just a five-minute walk from the main museum; look for signs pointing in the right direction. The complex itself is set in a walled courtyard off the main street. It is easily reached on foot or a short taxi ride from much of central Pristina.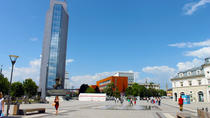 Are you willing to see the latest 'newborn' in Europe? This private full-day trip to the capital of Kosovo, Pristina, is really an easy step once you are in ... Read more
Location: Skopje, Macedonia
Duration: 8 hours (approx.)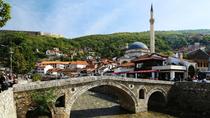 8 Reviews
Enjoy this full day tour to explore Kosovo with the visit of the capital Pristina and another popular city Prizren.
Location: Prishtina, Macedonia
Duration: 8 hours (approx.)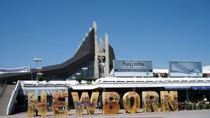 Pristina is the cultural, economical, and administrative center of the Kosovo with a long history. In a full day tour to Pristina, you can discover ... Read more
Location: Prishtina, Kosovo
Duration: 8 hours (approx.)