Horseback Riding in Petra
By Viator, July 2018
The stunning and stark desert surrounding the ancient city of Petra is the perfect setting for riding into the sunset. Horseback riding in and around the Petra region takes you off the beaten tourist track to experience sights and sounds few others get to have.
The beautiful Wadi Rum desert was home of Lawrence of Arabia, a famed soldier and horseman himself, and visitors who traverse this land of camels and Bedouin in the saddle will find a surprisingly diverse landscape. Experienced riders can travel from Petra through the Wadi Rum on multi-day journey, camping beneath the stars and enjoying the majestic vastness of the desert along the way.
Those who've seen Petra's major sights on foot and want to explore further can do so on a horse ride to Mount Aaron, one of the holiest sites in all of Jordan for Muslims, Christians and Jews alike. This day trip on horseback includes a ride through the Siq of Petra when nobody else is around before passing the Treasury, Theater and other iconic monuments before heading further uphill.
If you're really pressed for time, it's possible to skip the walk through the Siq to Petra and ride a horse instead. While short, this ride helps you imagine what it might have been like for trading caravans entering the ancient city. Plus, day trips to Petra can be quick in-and-out affairs, and riding a horse through the Siq will give you more time to explore the temples and monuments.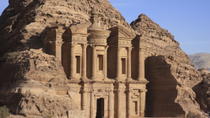 2 Reviews
Rewind more than 2,000 years in time on this private full-day trip to Petra from Aqaba! Pass by Little Petra the Nabatean's carvan stop before heading to the ... Read more
Location: Aqaba, Jordan
Duration: 8 hours (approx.)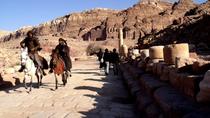 2 Reviews
Go off the beaten track on a horseback-riding tour through Petra. With an expert guide, explore deep into Petra, perfect trip if you have previously seen Petra ... Read more
Location: Petra, Jordan
Duration: 5 hours (approx.)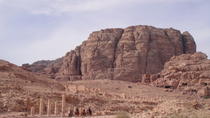 Discover Petra's rock-carved ruins, 'Indiana Jones' filming sites and rich Nabataean history on a day trip from Amman! After traveling south to the ... Read more
Location: Amman, Jordan
Duration: 10 hours (approx.)