Papeete is full of options for those wanting to explore the outdoors.

Start your day walking along the Waterfront Esplande and taking in views of the volcanic island of Moorea and its rugged peaks and lush green landscape. There are often live performances and events going on in this area, as well as delicious food, popcorn and pastries sold by food vendors.

At night, the atmosphere gets even livelier as the food trucks of Vai'ete Square open from 6pm to 3am, selling everything from Chinese food to Tahitian pizza.

With its beautiful beaches and warm crystal waters, water sports are a popular activity in Papeete. Kite-boarding, windsurfing and water skiing are popular, as is surfing, a sport Tahiti is world-renowned for. You'll find the best breaks at Arue Beach and Point Venus.

If you're looking to learn how to surf, Toa Moana Surf School is a reputable Papeete surf school located in the Fare Tony Center on Boulevard Pomare. If you want to snorkel, popular beaches include the capital's main beach, Bain Lot Beach, and the family-friendly Mahana Park Beach. Scuba diving is also popular, as Papeete's harbor is sheltered by colorful reefs of hard and soft coral that provide a home to a whole world of vibrant marine fauna.

Underwater walls plunge down to vast depths, while Black Tip Reef sharks, Moray eels, dolphins, turtles, wrasses, tropical fish -- and even sometimes humpback whales if diving between July and October -- swim around you.

For those wanting to explore the land, the opportunity to complete a three-hour hike through ginger flowers, fruit trees and lush jungle to the Fautaua Valley Waterfall is worthwhile. This 985-foot (300m) waterfall cascades down volcanic cliffs and plunges into a large pool. Keep in mind the rainier the weather, the stronger the falls will be.

You can access the trail near the downtown Papeete tourist office where you can also ask them for specific directions. Because the trek can be challenging at times, it is best done with a guide. However, if you do go on your own remember you'll need to procure a permit from Town Hall for $7.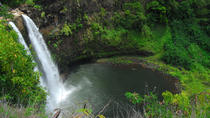 70 Reviews
Discover the best of Papeete on this full-day 4WD safari adventure. You'll travel through almost impenetrable rainforest to discover some of the jewels of ... Read more
Location: Papeete, French Polynesia
Duration: 8 hours (approx.)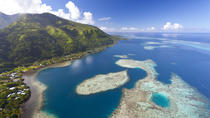 3 Reviews
Explore the lesser visited south-west coast of the island of Tahiti on a boat tour around the peninsula and Teahupoo. You will discover that there is more to ... Read more
Location: Teahupo
Duration: Flexible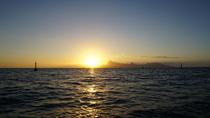 8 Reviews
Take in the spectacular colors of a Tahitian sunset on an early evening cruise from Papeete. Enjoy views of Moorea from the open water as you sip a refreshing ... Read more
Location: Papeete, French Polynesia
Duration: 90 minutes (approx.)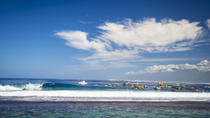 Visiting French Polynesia in August? Take a taxi boat from Teahupoo Marina to the Teahupoo break to see the world's best surfers compete at the Tahiti ... Read more
Location: Teahupoo, Tahiti
Duration: 60 minutes (approx.)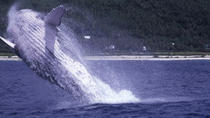 3 Reviews
From August through October, thousands of humpback whales migrate to the warm waters of French Polynesia. Catch a glimpse of the majestic mammals on a ... Read more
Location: Papeete, French Polynesia
Duration: 3 hours 30 minutes (approx.)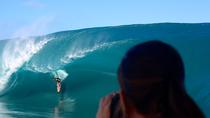 Take a taxi boat from Teahupoo Marina to the Teahupoo break to see some of the best waves in the world. Depending on the size of the swell, you'll see ... Read more
Location: Teahupoo, Tahiti
Duration: 60 minutes (approx.)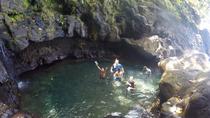 Explore the lesser visited south-west coast of the island of Tahiti on a boat tour around the peninsula and Teahupoo. You will discover that there is more to ... Read more
Location: Teahupo
Duration: 3 to 4 hrs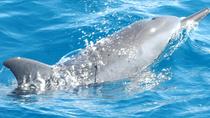 1 Review
Go in search of spinner dolphins on this 2-hour cruise on the island of Tahiti. Cross the beautiful turquoise waters of the southern Pacific Ocean to ... Read more
Location: Papeete, French Polynesia
Duration: 3 hours (approx.)