Made a UNESCO World Heritage site in 1993, Tongariro earned its status for a combination of both cultural and natural features. The oldest national park in New Zealand—and the fourth national park established in the world—it's set at the end of a 1,550-mile string of North Island volcanoes considered sacred to the Maori people as a connection point between the Earth and sky.

Extending northeast through much of the landlocked Ruapehu District, the string's northern group of vents, cones, domes and craters have been dormant for approximately 20,000 years, but a more southern group is active to this day. This latter group includes three major peaks—the Ruapehu, Ngauruhoe and Tongariro—the latter of which includes recent explosion pits, lava flows and lakes.

On the northern and southwestern sides of Mount Ruapehu, respectively, lie Whakapapa and Turoa, the two largest ski resorts in the country; both are operated by a company called Ruapehu Alpine Lifts. Also within the park, the Pihanga Scenic Reserve includes Lake Rotopounamu, Mount Pihanga and the Kakaramea-Tihia Massif. This reserve area is especially sacred to the Maori, who celebrate the love between Pihanga, a powerful female mountain, and the equally strong male mountain-- Tongariro.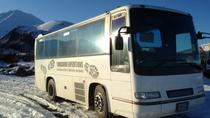 23 Reviews
Described as one of the best day hikes, this tour will provide you with the opportunity to experience some of the most scenic and active volcanic areas of the ... Read more
Location: Turangi, New Zealand
Duration: 8 to 10 hrs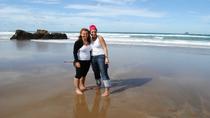 2 Reviews
Venture from Auckland to the North Island on this private 8-day tour that takes you by private, luxury vehicle to Coromandel, Whitianga, Rotorua, Tongariro ... Read more
Location: Auckland, New Zealand
Duration: 8 days (approx.)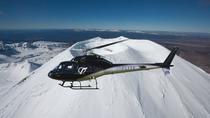 Enjoy a spectacular Helicopter Flight over the Majestic Volcanoes in the World Heritage Tongariro National Park, the Rugged Kaimanawa Ranges and New Zealand's ... Read more
Location: Taupo, New Zealand
Duration: 60 minutes (approx.)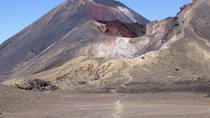 Enjoy this round-trip shuttle from National Park Village to the Famous Tongariro Alpine Crossing, departing every day at 8am. The hiking duration is ... Read more
Location: National Park, New Zealand
Duration: 7 hours (approx.)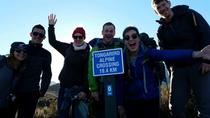 1 Review
Bring on summertime when it's great to get outdoors and do NZ's Best ONE DAY hike over the Tongariro Alpine Crossing. This can take between 5 to 8 hours ... Read more
Location: Turangi, New Zealand
Duration: 9 hours (approx.)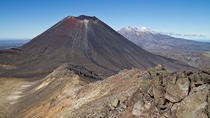 Download a vibrantly-narrated mp3 audio guide combined with a map detailing the area of your tour. Experience a hiker's self-guided audio tour of the ... Read more
Location: Tongariro, New Zealand
Duration: 1 to 3 hrs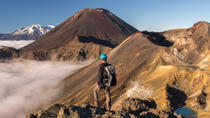 Experience the majestic Tongariro National Park and feel the crisp mountain air as you follow your expert guide across the Tongariro Alpine Crossing for a ... Read more
Location: Tongariro National Park, New Zealand
Duration: 8 hours (approx.)