Carnton Tours
Built in 1826, this iconic plantation was home to Nashville mayor Randal McGavock and eventually became one of the top-producing farms in Williamson County. But in 1864, Carnton became the site of one of the Civil War's deadliest battles—the Battle of Franklin. In just five hours nearly 10,000 soldiers were killed, wounded or captured.
Today, visitors can explore the stunning grounds that span nearly 50 acres outside of Nashville. In addition to wandering the halls of the storied home, travelers can check out the famed McGavock Confederate Cemetery, where some 1,500 soldiers who died in the Battle of Franklin are buried.
Travelers can step back in time on a tour of Carnton Plantation on their own, or as part of a larger tour that highlights the landmarks and battle fields of the Civil War in the south.
Practical Info
Carnton Plantation is located at 1345 Eastern Flank Circle in Franklin, Tennessee. It spans from 48 acres and is open daily from 9am-5pm, and on Sundays from 11am-5pm.
Guided tours take place daily and cost $15 for adults and $8 for children between 6-12. A comprehensive tour of the Carter House, Carnton Plantation and Lotz House is available for $30.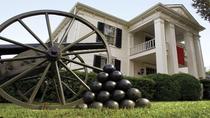 60 Reviews
Get an inside look at the bloodiest hours of the American Civil War on this tour from Nashville to Franklin, the site of the famous Battle of Franklin in 1864. ... Read more
Location: Nashville, Tennessee
Duration: 7 hours (approx.)