Terrace of the Lions Tours
The famous Terrace of the Lions is a signature image of Delos, as key to the island as the whitewashed windmills of Mykonos.

The Terrace of the Lions was dedicated to Apollo in around 600 BC. Originally, there were up to a dozen big squatting guardian cats lining the Sacred Way; today, only seven remain. The lions have grown weathered with time and the elements, and only their tapering feline shapes suggest their original appearance. Lined up in a row, they sit atop pillars of brick and rubble, looking over the site.

The lions are replicas, with the originals preserved in the site's museum, a short walk east of the terrace near the visitor pavilion.
You can also see one of the lions in Venice, guarding the entrance to the Arsenale shipyards. The terrace is part of the sprawling archaeological site of Ancient Delos, on the island's northwest coast. It sits in front of the rectangular Agora of the Italians, south of the Sacred Lake where Leto gave birth to Apollo. Between the terrace and the sea lies the temple of Poseidon.

Practical Info
The Terrace of the Lions is one of the monuments of Ancient Delos, a 30-minute sail southwest of Mykonos. You can take an organized tour to the island of Delos, or catch a boat from Chora Mykonos.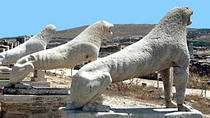 2 Reviews
Discover Ancient Delos and its legends. This private tour will guide you through the Agora, the Sacred way and the Temple of Apollo. You will also admire the ... Read more
Location: Míkonos, Greece
Duration: 13 hours (approx.)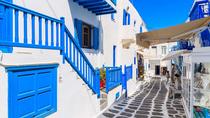 4 Reviews
While you're in port in Mykonos, head out on a private shore excursion to enjoy the best of the island, from traditional houses to historical wonders. Explore ... Read more
Location: Mykonos, Greece
Duration: 2 hours 30 minutes (approx.)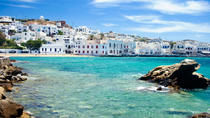 2 Reviews
Enjoy all Mykonos has to offer, from beautiful sandy beaches to archaeological wonders to the extravagant nightlife!
Location: Athens, Greece
Duration: 4 days (approx.)