Montego Bay is the capital of St. James Parish and the second largest city in Jamaica. If you want to get some Duty Free shopping done, this is the place to do it. Or, if you're more inclined to be outdoorsy, Montego Bay offers every type of water activity imaginable.

How to Get to Montego Bay
Montego Bay is a bustling port, located a few miles from downtown. Taxis and group vans are readily available when ships dock. However, make sure your taxi is a licensed JUTA taxi in order to avoid being scammed.
One Day on Jamaica
Nature and retail therapy: take in a little of both with the Green Grotto Caves and Shopping Tour. Explore some of the natural wonders of Jamaica before heading off to spend some green of your own in the beautiful Whitter Village.
The Dunn's River Falls and Beach Horseback Riding Excursion takes you by some of Jamaica's cannot miss natural attractions while getting in touch with your equestrian side. At the end of the day, kick back at one of Montego Bay's renowned restaurants for some delectable Jamaican seafood treats, or try a world-famous Jamaican rum punch for an authentic island taste.
Port Information
The official language of Jamaica is English (with that characteristic accent), and the currencies are the Jamaican Dollar or the US Dollar. Vendors around Montego Bay are notorious for their aggressive tactics, so be firm in your refusals. Jamaica also has higher crime rates than many of the other islands, so limit the number of valuables you carry, and be wary of your surroundings.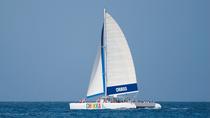 65 Reviews
Cruise through the clear waters of the Caribbean aboard a spacious catamaran and discover where Dunn's River Falls meets the sea. Snorkel over spectacular ... Read more
Location: Ocho Rios or Montego Bay, Jamaica
Duration: Varies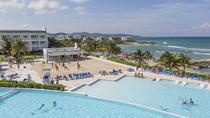 This popular shore excursion in Jamaica offers the opportunity to enjoy the stunning stretch of beach, along with the pools and kids cove at the beautiful ... Read more
Location: Montego Bay, Jamaica
Duration: 8 hours (approx.)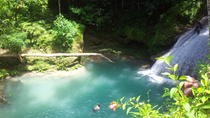 Make the most of Montego Bay with a 7-hour private shore excursion to the island's top spots the Blue Hole and Secrets Falls. Take a hike through the ... Read more
Location: Montego Bay, Jamaica
Duration: 6 hours (approx.)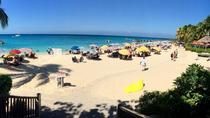 Venture into the five miles of pure white sand and crystal clear water that have made Doctor's Cave Beach a popular destination for all. Enjoy relaxing on the ... Read more
Location: Montego Bay, Jamaica
Duration: 4 hours (approx.)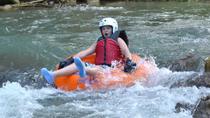 3 Reviews
While in port in Montego Bay, embark on a shore excursion and tube down Jamaica's Rio Bueno! Let your adventurous side out as you float over rushing river ... Read more
Location: Montego Bay, Jamaica
Duration: 3 hours 30 minutes (approx.)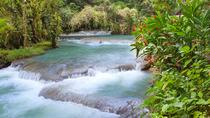 35 Reviews
While you're in port in Montego Bay, take a shore excursion to Dunn's River Falls, one of Jamaica's most famous sights. Swim and play in the pools formed by ... Read more
Location: Montego Bay, Jamaica
Duration: 5 hours 30 minutes (approx.)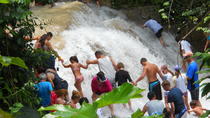 Take this amazing shore excursion from the Montego Bay cruise ship pier. Discover two magnificent falls in one day. See for yourself what everyone is raving ... Read more
Location: Montego Bay, Jamaica
Duration: 8 hours (approx.)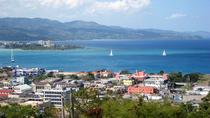 Ready to soar like a bird from tree to tree in a rain forest? Come enjoy an amazing shore excursion to the cool hills of Lethe to experience the thrill of the ... Read more
Location: Montego Bay, Jamaica
Duration: 6 hours (approx.)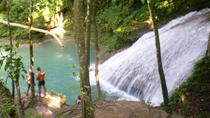 8 Reviews
Enjoy a fantastic shore excursion to Jamaica's famous Blue Hole and Secret Falls which is a must do! This special tour takes you east along the north coast of ... Read more
Location: Montego Bay, Jamaica
Duration: 7 hours (approx.)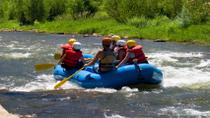 8 Reviews
While in port in Jamaica, embark on a river-rafting adventure down the Rio Bueno, one of Jamaica's most scenic rivers, on this Montego Bay shore excursion! ... Read more
Location: Montego Bay, Jamaica
Duration: 3 hours 30 minutes (approx.)