1 Review
Address:

Howard Cooke Highway and Harbor Street, Montego Bay, Jamaica

Hours:

7am-7pm daily
In a place like Montego Bay, Jamaica, where tourism is everywhere you look, sometimes it's nice to just lose yourself in a narrow network of stalls, and interact with local people who define the Jamaican spirit. Oftentimes that's the best part of touring the Montego Bay Craft Market—just speaking openly and having casual conversations with the locals that call this place home. While you're destined to find the "usual" souvenirs that you'd find at the port or resort, if you look hard enough you can also find some unique, handmade crafts, like custom woodworking, colorful paintings, or beads that all tell a story.
The Montego Bay Craft Market is a popular stop on shopping tours of town, where aside from the actual crafts themselves that eventually become souvenirs, it's the smiles and stories from local vendors that make the market such a worthwhile stop when visiting Montego Bay.
Insider's Tip: Mornings tend to be much less crowded, and the vendors are much less pushy in the morning than they can be toward the end of the day.

Practical Info
For some travelers the craft market can be overwhelming, and the vendors a bit aggressive. Just understand that haggling is normal and you're never obligated to buy, and that all the vendors are just trying to make a sale to support themselves and their family. Avoid touching any of the merchandise, and never offer your name to vendors as they might carve it into the wood.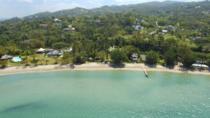 3 Reviews
Travel with your guide around the second largest metropolitan area in Jamaica. Montego Bay provides the perfect getaway for those who picture themselves lying ... Read more
Location: Montego Bay, Jamaica
Duration: 3 hours (approx.)