Mexico RECOMMENDATIONS See all
Celebrating Day of the Dead in Mexico and Latin America
By Viator, February 2018
No reviews, be the first!
Known for its vibrant parades, ghoulish costumes, and elaborate altars, the Day of the Dead (El Dia de los Muertos) is not only a day to honor passed family members—it's also a colorful and joyous celebration of life. Here's how to best celebrate the holiday throughout Mexico and Latin America.
When to Go
Day of the Dead is celebrated each year on November 2, coinciding with the Roman Catholic celebration of All Soul's Day. Celebrations take place throughout Mexico, Central America, and South America beginning on October 28, so it's best to arrive in your destination a few days early.
Where to Go
Mexico hosts some of the world's most famous Day of the Dead celebrations. Festivities in Oaxaca are particularly legendary, including the grand Arrival of the Dead and Farewell to the Dead ceremonies, and the gloriously macabre Dead Costume Parade. Mexico City is another popular place to spend the holiday, with lively gatherings in the city's cemeteries. The nearby town of Mixquic is also well known for its poignant celebrations, which include a midnight candlelit vigil held in the cemetery. And Mexico isn't the only country to enjoy the celebrations—similar festivities are held in Ecuador, Guatemala, Brazil, and Belize during this time of year.
How to Go
There are many options for celebrating the Day of the Dead across Latin America. In Mexico, cruise along the Xochimilco Canals for views of the capital's many costume parades; take a day trip from Mexico City to the town of San Andres Mixquic and tour the town's colorful cemetery; or sightsee in Santa Maria Huatulco during the Day of the Dead festivities. In Guatemala, attend the Day of the Dead Mayan Kite Festival on a day trip from Guatemala City or Antigua.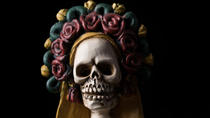 If you're in Mexico City on November 1, don't miss the chance to take part in Day of the Dead, one of Mexico's most cherished annual traditions. Visit a ... Read more
Location: Mexico City, Mexico
Duration: 8 hours (approx.)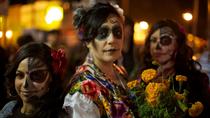 Mixquic is a town that symbolizes the essence of the ritual of death and it's well-known for hosting a very traditional Day of the Dead celebration. On this ... Read more
Location: Mexico City, Mexico
Duration: 11 hours (approx.)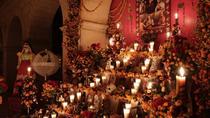 Experience the local celebration on the Day of the Dead, where locals will honor their loved ones that have past.
Location: Santa María Huatulco, Oaxaca
Duration: 5 hours (approx.)