Mornington Peninsula Tours
Melbourne's Mornington Peninsula lies only and hour's drive from Melbourne, but seems miles away in actuality. Closely akin to the climate of the Mediterranean, the Mornington Peninsula is widely loved for its cool breeze, hill-side vineyards, olive groves, and country estate retreats. People that come here often wish they could stay for a lifetime, and some do.

A leisurely place, the peninsula garners its fame from its beautiful rustic scenery. Boot-shaped like Italy, many prefer to explore the little seaside villages that dot the coastline. Here, craftsmen and women have carved out an old way of life by the sea which many appreciate by simply strolling through. But that is not to say that the Mornington Peninsula is outdated by any means. Spas and estate retreats offer all the finest amenities from mud-wraps to Arabic steam rooms.

Other visitors prefer meandering through the many wine groves and taste some of the best wine Australia has to offer. Boasting 50 cellar doors, it's true that the Mornington Peninsula has some of the best Pinot Noir and Chardonnay samplings anywhere on the continent. And where there's fine wine, fine food is sure to follow, and follow it has. Spend your time picking from a great handful of fine cafes and restaurants that will make you a meal to match your wine.
And if all you long to do is to get out there and explore the truly stunning natural landscape at your feet, you can do that too. Windswept cliff tops, quiet beaches, and bush-clad paths make the Mornington Peninsula one of Australia's most sought-after destinations.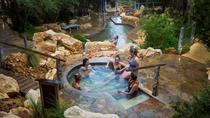 43 Reviews
Relax and rejuvenate on a Mornington Peninsula day trip from Melbourne. Soak in the mineral-rich waters of Peninsula Hot Springs before enjoying a wine ... Read more
Location: Melbourne, Australia
Duration: 11 hours (approx.)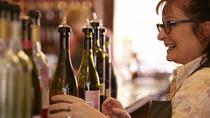 85 Reviews
Sample cheese, chocolate, strawberries and wine on a Mornington Peninsula food and wine day trip from Melbourne. Pick up wine and cider tasting tips at ... Read more
Location: Melbourne, Australia
Duration: 10 hours 30 minutes (approx.)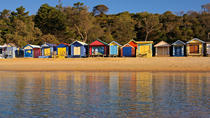 36 Reviews
Be seduced by the charming Mornington Peninsula, only an hour from Melbourne, and discover wind-swept beaches, vineyards, history, spectacular scenery, good ... Read more
Location: Melbourne, Australia
Duration: 10 hours (approx.)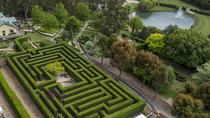 Immerse yourself in a wonderland of hedge mazes, artistic gardens, giant puzzles, bushland obstacles and tube slides. With over 22 acres of fun all ages! Allow ... Read more
Location: Melbourne, Australia
Duration: 1 day (approx.)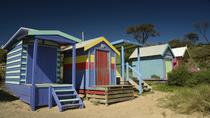 1 Review
Go road-tripping along the Great Ocean Road, discover colonial history and gorgeous beaches on the Mornington Peninsula, and visit popular Melbourne city ... Read more
Location: Melbourne, Australia
Duration: Flexible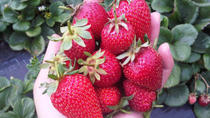 10 Reviews
Take a day trip to the Mornington Peninsula, known for its stunning coastline along with vineyards and fine restaurants, farms, holiday homes and a quiet ... Read more
Location: Melbourne, Australia
Duration: 9 hours (approx.)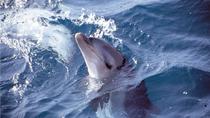 4 Reviews
Discover the Mornington Peninsula on this full-day tour from Melbourne. Your day trip includes a visit to Point Nepean National Park located at the tip of the ... Read more
Location: Melbourne, Australia
Duration: 11 hours (approx.)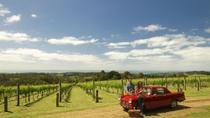 Discover the delights of the Mornington Peninsula on this guided tour led by a local with insider knowledge. Visit an olive farm, go wine tasting, enjoy a ... Read more
Location: Melbourne, Australia
Duration: 8 hours (approx.)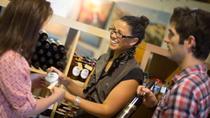 Treat yourself to a luxurious private 2-day wine and food tour on the Mornington Peninsula with a local guide to show you the best of the region. Enjoy ... Read more
Location: Melbourne, Australia
Duration: 2 days (approx.)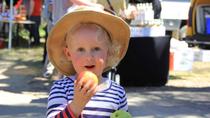 Travel on a spacious boat to the mainland to visit to one of the Mornington Peninsula's premier local craft and food markets. Enjoy a scenic 30-minute cruise ... Read more
Location: Phillip Island, Australia
Duration: 5 hours (approx.)