Lucerne Old Town Tours
With its idyllic lakeside promenade lined with half-timbered buildings, old burghers' houses decorated with elaborate murals and maze of cobblestone lanes linking the main squares of Weinmarkt, Hischenplatz and Kornmarkt; the pedestrianized Lucerne Old Town provides an atmospheric backdrop for a walking tour. The UNESCO-listed district is the historic heart of the city, set on the eastern banks of the River Reuss and still surrounded by the remains of its medieval city walls and watchtowers.

Many of Lucerne's top attractions can also be found in the Old Town including the poignant Lion Monument, the Alpineum, the Picasso Museum and the 17th-century old Town Hall, as well as the 15th-century Mills Bridge, a wooden crossing adorned with colorful Kaspar Meglinger murals. Another instantly recognizable landmark of Lucerne is the 14th-century Chapel Bridge - the flower-lined walkway crosses the Reuss from the Old Town and is renowned for its iconic Water Tower and the series of 17th-century paintings that hang from its roof, many of which were partially destroyed by fire.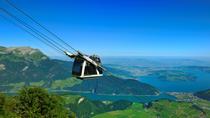 60 Reviews
Ride an open-top aerial cable car to the peak of Mt Stanserhorn and take in the spectacular views of the Swiss Alps! On this full-day coach tour from Zurich, ... Read more
Location: Zurich, Switzerland
Duration: 9 hours 30 minutes (approx.)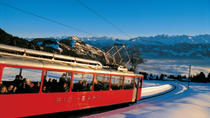 70 Reviews
Board a comprehensive full day tour from Zurich and visit Mt. Rigi, Queen of the Swiss Mountains at 6,000 feet (1,800 meters). Your partly guided coach tour ... Read more
Location: Zurich, Switzerland
Duration: 9 hours 30 minutes (approx.)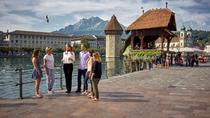 Discover Lucerne on a 2-hour guided city tour. The lively streets, hidden treasures and beautiful façades of Lucerne's medieval buildings form the perfect ... Read more
Location: Lucerne, Switzerland
Duration: 2 hours (approx.)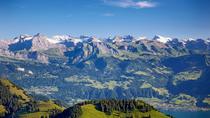 162 Reviews
On this full-day alpine excursion, escape Zurich and spend a glorious day in the Lake Lucerne area, exploring Mount Rigi, known as the 'Queen of the ... Read more
Location: Zurich, Switzerland
Duration: 9 hours 30 minutes (approx.)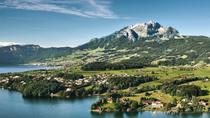 265 Reviews
For a full day of alpine summer splendor, make for the mountains on this guided roundtrip from Zurich to central Switzerland's Mount Pilatus. Your full day ... Read more
Location: Zurich, Switzerland
Duration: 9 hours 30 minutes (approx.)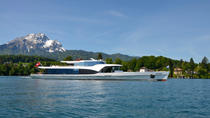 27 Reviews
Spend a day in the pretty city of Lucerne on a day trip from Zurich, enjoying a short city tour, Lake Lucerne cruise and plenty of free time. After traveling ... Read more
Location: Zurich, Switzerland
Duration: 9 hours 30 minutes (approx.)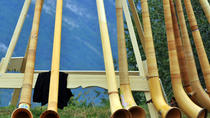 7 Reviews
This excursion takes you to the picturesque city of Lucerne. After a short orientation tour of the city you will proceed to a typical Old Town restaurant where ... Read more
Location: Zurich, Switzerland
Duration: 9 hours (approx.)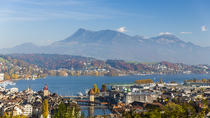 1 Review
Want to experience Lucerne like a local? Join me in a private walking tour as we visit world-famous sights such as the Chapel Bridge with the octagonal ... Read more
Location: Lucerne, Switzerland
Duration: 2 hours 30 minutes (approx.)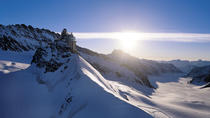 Enjoy this 5-day private tour for a maximum of 10 travelers, and spend two nights in the charming town of Lucerne followed by two nights in Interlaken with ... Read more
Location: Zurich, Switzerland
Duration: 5 days (approx.)