Luang Prabang is the place to see holy temples, golden gongs, and beautiful Buddhas, but there's plenty of adventure for the outdoor enthusiast as well. From cruising the mighty Mekong River to trekking through the jungle to remote villages, these are some of our favorite outdoor activities.
Hiking and Trekking
Exploring the jungles of Laos on foot gives travelers the opportunity to explore the jungle and local ethnic villages in a more intimate way. Take it easy with a half-day jungle trek to a Khmu village and Tad Sae Waterfall, or challenge yourself with a two-day exploration of the jungle trails just beyond the borders of the UNESCO World Heritage-protected town.
Boat Trips
No trip to Luang Prabang would be complete without a boat trip along the Mekong River. One of the most popular options is to cruise to the Pak Ou Caves to see the thousands of gilded Buddha statues within. These tours often include a stop at Kuang Si Falls. Other options include a sunset cruise or a dinner cruise with a traditional Lao dance performance.
Cycling
Hop on the saddle of a bicycle and peddle the quiet roads of the Northern Laos countryside. Guided bike tours take visitors through the region's unspoiled scenery, past temples and rural villages, stopping to chat with local artists and sample regional delicacies along the way. Those looking for a challenge can opt to mountain bike along the banks of the Nam Khan River to the spectacular Tad Sae waterfall. Some full day tours combine mountain biking and kayaking along the river.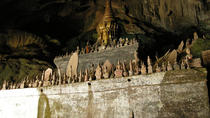 11 Reviews
Explore the beauty of Laos' culture and natural wonders with a full day exploration around Luang Prabang. Travel up the Mekong River to the Buddha-filled caves ... Read more
Location: Luang Prabang, Laos
Duration: 10 hours (approx.)
1 DAY | MINIVAN DAY TRIP TO LUANG PRABANG'S MOST FAMOUS SITES See two of Luang Prabang's most popular attractions in one tour by minivan. In the morning, ... Read more
Location: Luang Prabang, Laos
Duration: 1 day (approx.)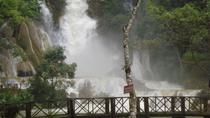 1 Review
A good chance to take a 1.5hours boat trip heading upstream from Luang Prabang, It is a great way to get a glimpse of life along the river. Enjoying the screen ... Read more
Location: Luang Prabang, Laos
Duration: 10 hours (approx.)
Journey by boat to the secluded Pha Tad Ke Botanical Garden, where you will learn about plant conservation, medicinal plants and Lao culture, while exploring ... Read more
Location: Luang Prabang, Laos
Duration: 1 to 8 hrs
With two options of tickets, including Visit to Pakou cave - Lunch on boat or other option of Mekong sunset cruise with traditional dance in dinner..
Location: Luang Prabang, Laos
Duration: 3 hours 30 minutes (approx.)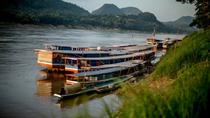 Sunset in Luang Prabang leaves a lasting impression on travelers, often becoming one of their most memorable experiences. It is not just pretty skies but that ... Read more
Location: Luang Prabang, Laos
Duration: 2 hours 30 minutes (approx.)
Explore one of Laos' most breathtaking attractions with a five-hour guided tour. Travel by boat and local tuk-tuk for an unforgettable adventure. Paddle and ... Read more
Location: Luang Prabang, Laos
Duration: 4 hours (approx.)
Experience the mighty Mekong River in all its glory, with Luang Prabang's mountainous jungle providing a stunning scenic backdrop. A journey down this ... Read more
Location: Luang Prabang, Laos
Duration: 2 hours (approx.)
Combining the majestic beauty of the mighty Mekong River with a sumptuous evening meal, this memorable dinner cruise offers an intimate journey at the most ... Read more
Location: Luang Prabang, Laos
Duration: 2 hours (approx.)
MOUNTAIN BIKE AND BOAT RIDE EXPLORE THE PAK OU CAVES 1 DAY | BE ACTIVE AND SEE THE BEST OF LUANG PRABANG The Mekong River and its landscapes are some of ... Read more
Location: Luang Prabang, Laos
Duration: 1 day (approx.)