58 Reviews
Address:

3400 W. Riverside Dr., Burbank, CA 91505, USA

Hours:

Mon - Fri: 8:15am-4pm
The original Warner brothers were Harry, Albert, Sam and Jack, the sons of Polish Jewish immigrants. Beginning their careers in the early 1900s as movie theatre and film distribution entrepreneurs, they had progressed to film production by the start of World War I and started a full-fledged studio on Sunset Boulevard in 1923. They moved their rapidly-expanding operations to the studio's present site in 1928, and eventually built one of the largest and most profitable entertainment companies in the world. Today, the Warner Bros. empire encompasses live-action film, animation, comic books, radio, TV, video games and amusement parks, as well as music recording and distribution.

Initially famous for the films of canine star Rin Tin Tin, Warner would have many other successes: the release of The Jazz Singer, the world's first "talkie;" the elaborately-choreographed musicals of Busby Berkeley; the gangster films of James Cagney and Edward G. Robinson; the Looney Tunes cartoon shorts; classic films like Casablanca, Mildred Pierce and Bonnie and Clyde; popular TV shows such as Maverick, as well as the modern lineups of the WB and CW networks. More success came from the purchase of video game company Atari; the superhero properties of DC Comics; and amusement park chain Six Flags. Warner has also produced all of the Harry Potter films, the highest grossing film franchise in history.

Behind-the-scenes studio tours via golf carts (either 2-hours and 15-minutes or 5 hours in length) provide glimpses into back lot streets, sound stages and set- and prop-crafting shops. No two tours are alike, and stars sometimes wander into view or make deliberate appearances. Children 8 years and over are permitted and tours are given Monday to Friday.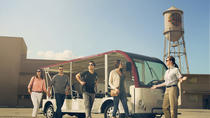 168 Reviews
Go behind the scenes of Warner Bros. Studios and see dozens of celebrity homes on this 4- to 5-hour tour that takes you from Hollywood to Beverly Hills. Warner ... Read more
Location: Los Angeles, California
Duration: 6 hours (approx.)