Aukstaitija National Park Tours
At over 400 sq km (154 sq mi) and dense with pine, spruce and deciduous trees, Aukstaitija National Park is a real breath of fresh air.
The park's forests attract deer, elk and wild boar but its biggest appeal, is its large number of lakes and rivers that make up 30% of the park's total area. There are 30 rivers and 126 lakes in total and it is possible to explore many of them by boat or kayak. One of the prettiest lakes is Lake Baluosas, which has seven islands, one of which has a lake of its own.
There are over one hundred villages within the park, six of them protected as architectural monuments. Sights of interest within the villages include, the 19th century Ginuciai watermill, the bizarre Beekeeping Museum in Stripeikiai and an old wooden church (1750) and bell tower at Paluse.
AT 175m (574ft) the Ladakalnis peak offers breathtaking panoramic views of the forests and lakes below.
Practical Info
Aukstaitija National Park is about 100km (62mi) north of Vilnius.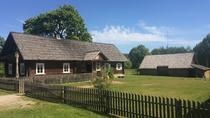 2 Reviews
Embark on a day trip to the Aukstaitija National Park and marvel at Lithuania's breathtaking natural attributes and historical facts and fall in love with ... Read more
Location: Vilnius, Lithuania
Duration: 1 day (approx.)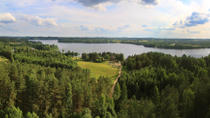 3 Reviews
At over 400 km2, Lithuania's first national park (1974) offers a breathtaking break away from it all. Thirty rivers, over one hundred lakes, large wooded areas ... Read more
Location: Vilnius, Lithuania
Duration: 8 hours (approx.)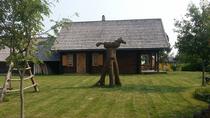 All day touring in Aukstaitija National park starts in Vilnius at your hotel at 9am.
Location: Vilnius, Lithuania
Duration: Flexible