No reviews, be the first!
Address:

755 E. Flamingo Road, Paradise, Nevada 89119, USA

Hours:

Open Monday-Saturday 10am-5pm and Sunday 12pm-5pm

Admission:

Admission is $22 for adults and $16 for kids ages 7-14
National Atomic Testing Museum Tours
Both mesmerizing and horrifying, 100 mushroom clouds bloomed from and above the desert at the Nevada Test Site between 1951 and 1962. Hundreds more atomic explosions blasted underground until 1992. One hundred and ten miles away from the site, the National Atomic Testing Museum explores the area's history, the 'Atomic Age' and dissects geopolitical events including what this nuclear history means for the world today.
This colorful Smithsonian-affiliated museum's 8,000 square feet of collections include some 12,000 artifacts, documents, photographs and video clips that recount the history and pop culture surrounding the Cold War, atomic science and the Nevada Test Site. Walk through a circular bunker to see a 1960s children's cereal box offering a free 'atomic ring,' Native American artifacts from the test area, Geiger counters, a replica 9 megaton nuclear bomb and the reactor that spawned the original nuclear rocket. Inside the Ground Zero Theater visitors can recreate the experience of witnessing an above ground test from Las Vegas and learn about the Nevada Test Site's creation.
A new exhibit, included with the price of admission, explores another Nevada Desert site of intrigue: Area 51.
Practical Info
The museum is located at 755 E. Flamingo Road in Paradise, Nevada, a southern suburb of Las Vegas along bus route #202. It is open Monday through Saturday 10am-5pm and Sunday 12pm 5pm.
Admission is $22 for adults and $16 for kids ages 7-14 (other group or demographic discounts may apply). Tours cost an additional $14 per person and must be booked two weeks in advance. Budget 2-4 hours to explore this museum.
For as low as $50 a day, see more and save with the Las Vegas Power Pass! For one low price, receive entry to the most exciting Las Vegas tours and attractions ... Read more
Location: Las Vegas, Nevada
Duration: Flexible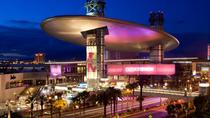 3 Reviews
Hop on the Big Bus Tour in Las Vegas and shop 'til you drop! Take the Strip Route  and shop at the best shopping centers in Las Vegas including Fashion Show ... Read more
Location: Las Vegas, Nevada
Duration: Flexible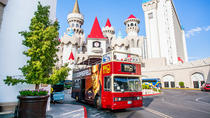 375 Reviews
Hop on the double-decker bus and cruise the Las Vegas Strip and Downtown Las Vegas all day long! The open-top buses allows you to enjoy a 360-degree panoramic ... Read more
Location: Las Vegas, Nevada
Duration: Varies