From October through late spring, whale sharks—the largest fish in the world—come to feed on plankton in the nutrient-rich waters of the Bay of La Paz and Sea of Cortez in Baja California Sur. There's nothing quite as exhilarating as getting in the water with these wild animals in their natural habitat.
How to Go
Since whale sharks tend to feed in shallow waters, it's possible for even novice snorkelers to enjoy the experience of observing them beneath the surface. Excursions to swim with whale sharks often include a boat trip out to a viewing site and snorkeling gear, plus snacks and refreshments. While it's possible to swim with whale sharks on a day trip from La Paz, you can deepen your knowledge of these creatures on a multi-day expedition through the Sea of Cortez. See below for more options.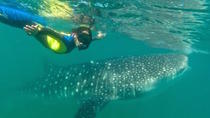 5 Reviews
Enjoy a truly unforgettable adventure combing a swimming experience near the natural habitat of Whale Sharks and the opportunity to explore the City of La Paz.
Location: La Paz, Mexico
Duration: 2 hours 30 minutes (approx.)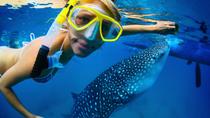 16 Reviews
Test your endurance and swim alongside whale sharks, the largest known fish, in the Sea of Cortez on this full-day eco-tour. After driving through a beautiful ... Read more
Location: Los Cabos, Mexico
Duration: 8 hours (approx.)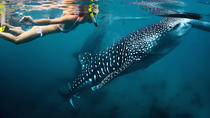 Whale Shark snorkeling is an incredible adventure: there are only a few spots in the world where you can enjoy these magnificent animals, and La Paz is one of ... Read more
Location: Cabo San Lucas, Mexico
Duration: 9 hours (approx.)