70 Reviews
Address:

La Fortuna, Costa Rica

Hours:

Open daily

Admission:

Varies
In this well-watered rain forest pierced by the perfect gray cone of Volcan Arenal, it is not only lava that wells up from the depths of the Earth. Steaming hot springs pour like a river from the great mountain's barren flanks, coursing through the lush tropical grounds of famed Tabacón Grand Spa.

Mineral-rich waters, fresh from the earth, cascade with picturesque  through a lavishly landscaped setting. Costa Rica's most beautiful flowers are woven through a world of quiet pathways and wooden bridges that connect the different pools. Some are warmer, others more isolated; the main pool, with fantastic views of the volcano, has a fabulous bar and water slide. A cold spring hidden away in a shady corner of this marvelous spot is the perfect place to recharge.

It's worth booking one of their exotic treatments just to see the fantastic spa complex, a serene ensemble of private pools and elegant little palapas where the massages and magic takes place. The hotel itself is among Central America's finest, with luxuriously appointed rooms and every first-world amenity, as well as exceptional views of Arenal Volcano.
Practical Info
There are a handful of other hot spring hotels in the area, open to daytrippers as well as guests at significantly lower prices. Tabacón is the most expensive because it's worth it, with natural (rather than heated) springs in a gorgeous setting. Budget travelers will find other options around La Fortuna, but this really is a worthwhile splurge.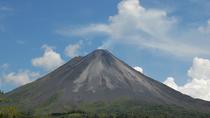 67 Reviews
Don't miss out on one of Costa Rica's most popular activities — an Arenal Volcano and Tabacón hot springs tour! The day trip from San Jose includes a ... Read more
Location: San Jose, Costa Rica
Duration: 13 hours (approx.)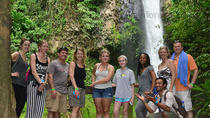 1 Review
Join this 4-in-1 tour where you get to see the best of Costa Rica in 12.5 hours. Channel your inner bravery and cross the Arenal Hanging Bridges to catch ... Read more
Location: La Fortuna, Costa Rica
Duration: 12 hours (approx.)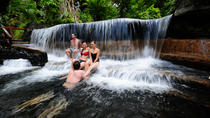 1 Review
Today you will visit the northern lowlands of Costa Rica remarkable for the impressive Arenal Volcano a magnificent natural wonder and one of the most ... Read more
Location: San José, Costa Rica
Duration: 14 hours (approx.)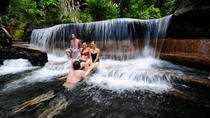 Hiking at the Arenal Volcano National Park. Enjoy the most amazing and relaxing hotsprings in the world, Tabacón Hot Springs. Enjoy a delicious dinner at ... Read more
Location: La Fortuna, Costa Rica
Duration: 6 hours (approx.)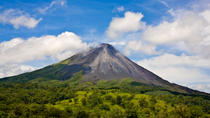 5 Reviews
Combine activity and relaxation on a hiking and hot springs tour from Arenal. First, you'll enjoy an easy hike in Arenal 1968 Park , where you'll gain ... Read more
Location: Arenal, Costa Rica
Duration: 6 hours 30 minutes (approx.)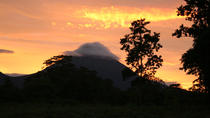 Few sites in Costa Rica inspire more respect and admiration than Arenal Volcano.  At 5437 feet, its tall and conical shape stands imposing over the pastured ... Read more
Location: La Fortuna, Costa Rica
Duration: 6 hours (approx.)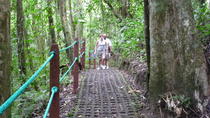 12 Reviews
Experience a great combination of outdoor activities including Arenal hanging bridges, La Fortuna waterfall, Arenal volcano and choices of Tabacón hot ... Read more
Location: La Fortuna, Costa Rica
Duration: 1 day (approx.)