Plunging down the side of Cerro Chato, Volcan Arenal's dormant and thickly forested twin, is one of the most impressive, and easily accessible, waterfalls in all Costa Rica. Cascada La Fortuna pours some 65m (200ft) down a sheer, volcanic gray cliff face, perpetually bathed in mists and carpeted in abundant and exotic vegetation.

The trailhead for the falls is located just 5.5km (3mi) from La Fortuna proper, a popular bike ride or horseback trek. The descent from the parking lot to the jungle floor isn't a long or difficult hike; it's about 20 minutes down, and generally a bit longer climbing back back up. Just keep in mind that the staircase is steep, and sometimes slippery. A the mirador, or viewpoint, allows almost anyone to appreciate this natural wonder no matter what their fitness level.

But it's well worth wandering down, if you're able, to fully appreciate the power of the waterfall as it crashes into the brilliant aquamarine pool below. Bring your bathing suit, but swim only in the pools well away from the potentially dangerous currents produced by the falls themselves, particularly in rainy season.
Practical Info
This is also the trailhead for the steep, 4hr hike to Cerro Chato, Arenal's dormant twin, topped with a crater lake; look for the trail just opposite the entrance to the waterfall. A swim in its brilliant blue waters makes this a convenient and refreshing finale to the longer trek.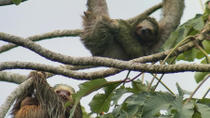 7 Reviews
Enjoy a wonderful outdoor adventure including two great activities in Arenal. If you have limited time or simply you don't want a full day tour; this one is ... Read more
Location: La Fortuna, Costa Rica
Duration: 7 hours (approx.)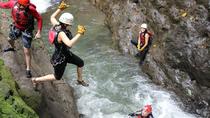 6 Reviews
Looking for an exciting twist on rappelling? Then sign up for this waterfall-jumping and canyoning adventure from La Fortuna, one of Costa Rica's most extreme ... Read more
Location: La Fortuna, Costa Rica
Duration: 6 hours (approx.)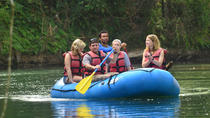 2 Reviews
The day starts around 7:30am when you are picked up at the hotel and head towards one of the most important reserves in the area. The first activity is Arenal ... Read more
Location: La Fortuna, Costa Rica
Duration: 7 hours (approx.)