No reviews, be the first!
Address:

Miette Road, Jasper National Park, Jasper, Alberta, Canada, Canada

Hours:

Spring & Fall: 10:30am - 9pm; Summer 8:30am - 10:30pm

Admission:

Adults: $6.05; Children: $5.15
Miette Hot Springs Tours
Considered one of the best-kept secrets in Jasper National Park, Miette Hot Springs are the hottest hot springs in the Canadian Rockies. With peaceful panoramic views of Fiddle Valley, the water in the springs exits the mountain at a temperature of 129°F (54°C) before entering the pool at a pleasant temperature of 104°F (40°C). As with many hot springs, the natural minerals found in the water are considered therapeutic and are a popular reason to visit. Each hot spring has a different signature mix of minerals; Miette Hot Springs' water is rich in sulfate, calcium, bicarbonate, magnesium and sodium.  
The bathhouse at the hot springs was opened in 1996, restored to its classic 1932 appearance. There are two mineral-rich hot pools, a cool pool for a refreshing dip and a restaurant. Other activities around the hot springs include hiking (the short trek to the old hotel ruins is popular) or wildlife viewing—bighorn sheep are often spotted in the parking lot.  
Practical Info
Miette Hot Springs is located 38 mi (61 km) east of Jasper and is open from the beginning of May through mid-October—exact dates vary each year. The hot springs open at 10:30 a.m. and close at 9 p.m. during the spring and fall; the springs are open from 8:30 a.m. to 10:30 p.m. from late June through Sept. 1. Rate range from $6.05 for adults and $5.15 for children 3 -17 years old. Day and annual passes are available as well.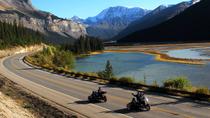 13 Reviews
Tour the scenic roads of the Canadian Rockies and Jasper National Park on a Harley Davidson motorcycle with sidecar, driven by a professional. Ride to your ... Read more
Location: Jasper, Canada
Duration: Varies