Kucuk Ayasofia Camii (Church of the Saints Sergius and Bacchus) Tours
The Little Aya Sofia (Kucuk Ayasofia Camii in Turkish) was built in the 6th century at the direction of the Roman Emperor Justinian I. Shaped as an irregular octagon, the church's interior featured a two-story colonnade and was embellished with gold mosaics and red and green marble. Many of the columns featured the monograms of the Emperor Justinian and Empress Theodora.

Justinian originally named the church after the saints Sergius and Bacchus, the patron saints of Christians in the Roman army, but it became known as the Little Aya Sofia due to its resemblance to the larger Aya Sofia that was completed just a few years later.  At the time, the church was one of the most important religious structures in the city then known as Constantinople.

After the Ottoman conquest of Constantinople in 1453, the Little Aya Sophia was left untouched for about fifty years before being converted to a mosque by a eunuch named Huseyin Aga. Over time, it suffered significant damage and decay and was added to UNESCO's watch list of endangered monuments and the World Monument Fund's list of 100 most endangered sites. It reopened in 2006 after an extensive restoration of both the interior and exterior.
Practical Information
The Little Aya Sofia is located in the Fatih district of Istanbul, in the Kumkapi neighborhood. If you are already exploring the Sultanahmet neighborhood, it is around a ten-minute walk southwest of the Blue Mosque.  Just walk through the Arasta Bazaar on the east side of the Blue Mosque and then follow Kucuk Ayasofya Camii Sokak downhill to the mosque. There is no admission fee, but you should plan to dress conservatively and remove your shoes before entering.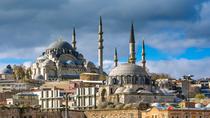 Visiting the most important monuments of Constantinople and Istanbul the Little Hagia Sophia, Suleymaniye Mosque and Grand Bazaar.
Location: İstanbul, Turkey
Duration: 3 hours 18 minutes (approx.)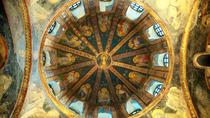 Follow the Christian heritage in Istanbul by luxury private car and private guide. Spend a full day around the old city, visit spectacular Byzantine Churches ... Read more
Location: Istanbul, Turkey
Duration: 8 hours (approx.)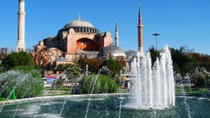 A perfect introduction to the historical area of Istanbul in 1 day. Conducted by an expert guide, this tour includes the most important sights of the city ... Read more
Location: Istanbul, Turkey
Duration: 8 hours (approx.)