D'Alt Vila (Old Ibiza Town) Tours
Get off the beach and explore the history of Ibiza for a day. Old Ibiza Town or D'Alt Vila (meaning High Town) is the perfect place to get lost on quaint cobble stone streets winding up, up, up and resulting in dramatic views of town and the island.

Begin your visit to this UNESCO World Heritage site through the main entrance, complete with a drawbridge and statues, through to the vibrant main square, Plaza de Vila. In town you will find a well-preserved fortified acropolis that sheds light on the early Phoenician settlers. There are also remnants of Arab, Catalan and Renaissance periods.

To experience the gastronomy in town, stick to the main square for some of the best dining on the island. At night, the town becomes even livelier with plenty of bars and hip spots to enjoy a drink or two.

Not to be outdone by the food and nightlife, there are also plenty of shopping options. A simple walk down a side street can delight visitors with tiny shops filled with local wares and more.

For those interested in learning about the history of Ibiza, head to the top of town and immerse yourself in the history of the island at the Museu Arqueologic d'Eivissa i Formentera. This free museum treats visitors to the early history of the island (Old Town came to life in 1554) to today.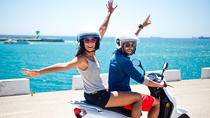 4 Reviews
Visit the island of Ibiza on two wheels with the coolest scooter rental at unbeatable prices and discover incredible places! In Cooltra you will find all the ... Read more
Location: Ibiza, Spain
Duration: Flexible