While most divers make a beeline for Mexico's Caribbean coast, the Pacific coast is the place to escape the crowds. The sandy beaches and jungle-clad bays of Huatulco (Bahias de Huatulco) offer a perfect playground for outdoor activities and water sports. Here's a rundown of the best Huatulco dive sites and snorkeling spots.
Cacaluta Island
On the cusp of the Huatulco National Park, the sheltered inlets of Cacaluta Bay offer warm water and gentle currents—a snorkeler's dream. The best spots are around Cacaluta island, where common sightings include sea turtles.
Maguey Bay
The quarter-mile stretch of beach around Maguey Bay is lined with colorful corals that are teeming with tropical fish and marine life, while a series of underwater caves offer interest for divers. Cruises typically take in the highlights of neighboring Santa Cruz Bay and Organo Bay.
Chachacual Bay
This tiny bay is home to world-class snorkeling and one of the area's most-loved beaches—Playa La India. The abundance of exotic fish makes for easy sightings, but strong currents mean it's better suited to strong swimmers.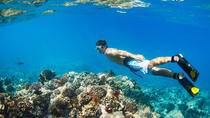 8 Reviews
Experience the natural wonders of Bahías de Huatulco National Park, traveling by boat along a series of beautiful bays strung along the Pacific coast. ... Read more
Location: Santa María Huatulco, Oaxaca
Duration: 7 hours (approx.)
To enjoy a cruise along the stunning coastline of Huatulco Opportunity to visit virgin beaches and bays Chance to snorkel in crystal waters ... Read more
Location: La Crucecita, Oaxaca
Duration: 7 hours (approx.)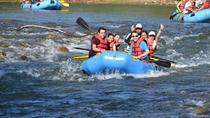 1 Review
Raft down river Copalita and learn about the habitat of birds such as the orioles and 90 other species.
Location: Santa María Huatulco, Oaxaca
Duration: 3 hours (approx.)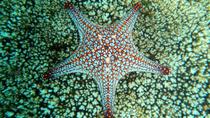 Experience an unforgettable adventure snorkeling in the crystal clear and clean beaches of Huatulco Bays.
Location: Santa María Huatulco, Oaxaca
Duration: 3 hours (approx.)
To enjoy a private small-boat tour along the stunning coastline of Huatulco Opportunity to visit virgin beaches and bays in your own way Chance to ... Read more
Location: Santa María Huatulco, Oaxaca
Duration: 4 hours 30 minutes (approx.)
To admire different diverse sea fauna Opportunity to snorkel surrounded by coral reefs Enjoying the pacific crystal waters Chance to visit one ... Read more
Location: La Crucecita, Oaxaca
Duration: 3 hours (approx.)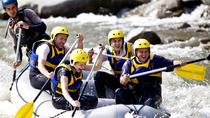 1 Review
Spend a day in Huatulco experiencing the beauty of the Copalita River! On this river-rafting adventure, travel down the river by raft, and learn about the ... Read more
Location: Santa María Huatulco, Oaxaca
Duration: Flexible