Houston Theater District Tours
When you think of theater in the United States what cities come to mind? New York? LA? Chicago? Vegas? Maybe Washington DC? While all those cities definitely share an abundance of performing arts, it's actually Houston that has the most second-most theater seats of any city in the country. In fact, between the 12,948 seats for live theater performances and the 1,580 movie seats that are also in the city's theater district, there are enough seats to treat 89% of Texas towns to a show. 
By every professional and statistical measure, Houston's theater district is one the world's most culturally rich destinations. Ballet, music, theater, and opera all have permanent, professional companies, and the actors, musicians, dancers and performers are among the best in the world. When visiting Houston's theater district, enjoy a play at the Alley Theater, a longtime Houston icon. Or treat yourself to the sounds of a Symphony that was founded in 1913. The Houston Opera has won countless awards including a Tony, two Emmys, and two Grammys, and the Houston Ballet is the fifth largest company in the United States. Combined with the wealth of dining options within walking distance of the shows, the Houston Theater District is the ultimate night out for culture, food, and the arts. 
Practical Info
The Theater District is made up of a 17-block area in Downtown Houston.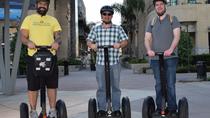 This segway tour takes place in the late evening and is the perfect idea for anyone wanting to explore downtown Houston after most of the downtown business ... Read more
Location: Houston, Texas
Duration: 2 hours (approx.)