Mundo Aborigen is a reconstruction of an ancient Canarian village inhabited by the Guanches (the orginal population of the Canaries).
Located in a scenic area overlooking the Barranco de Fataga, the island's biggest gorge, Mundo Aborigen recreates the lives of the Guanches through life-size figures depicted in various scenes of domestic life.
Following a trail through the park, visitors learn about the guanches culture and religion as well as their everyday activities such as growing crops, tending to animals and taking part in rituals.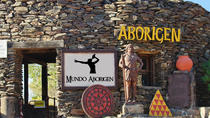 Mundo Aborigen is a Canarian Cultural Park with figures of Native Population. Discover the History, customs, and the way of Life of the Ancient Settlers of the ... Read more
Location: Maspalomas, Spain
Duration: 1 to 6 hrs