8 Reviews
Address:

Komodo National Park, Loh Liang, East Nusa Tenggara 86554, Indonesia
Komodo National Park, located in the middle of the Indonesian archipelago, became a UNESCO World Heritage Site in 1986 due to its biodiversity and most famous inhabitants, the Komodo dragon. The world's largest lizard—sometimes reaching more than 9 feet (3 meters) in length—are found only on these beautiful and desolate volcanic islands of Komodo, Rinca and Padar.

No matter which of the three islands in the park you visit, you're almost guaranteed to see a dragon or two, but you might also spot Timor deer, water buffalo, wild boar, Rinca rats, wild horses, fruit bats or long-tailed macaque monkeys. The islands also represent one of the riches marine environments in Indonesia, and the diving opportunities on the reef just off the coast are top notch. Outdoor enthusiasts will find hiking trails (though you'll need a guide) and smaller islands only accessible by kayak.
Practical Info
Komodo National Park is accessible via daily flights from Denpasar in Bali.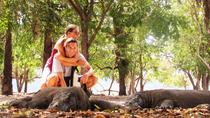 2 Reviews
Experience an incredible journey on this 3-day tour of the Komodo National Park. This is an adventure boat tour with camping on a deserted Island to explore ... Read more
Location: Labuhanbajo, Indonesia
Duration: 3 days (approx.)
2 Reviews
Embark on a private tour of Komodo National Park, where the world's largest lizards reside! Observe Komodo dragons in their natural habitat during your 3-day ... Read more
Location: Bali, Indonesia
Duration: 3 days (approx.)