St Audeon's Church Tours
Often erroneously overlooked in favor of more "popular" churches, St. Audoen's Church is the oldest medieval church still used in Dublin today. Constructed back in the late 12th century, the church is named for St. Audoen (Ouen), a patron saint of Rouen (Normandy) who lived in the 7th century. Though some parts of the church are in literal ruins, others have been restored and now host guided historical tours. When wandering the shadowy and ancient hallows of this stone and wooden compound, hear the tales of what life was like for residents of medieval Dublin. There is a Catholic Church by the same name that was built in the 19th century, so in order to bypass any confusion, be sure to visit the St. Audeon's that's nearly 1,000 years old. Next door to the church, a set of stairs leads to the only remaining gate from the original city wall, and with the amount of legends, history, and lore that emanate out from this church, it's surprising St. Audoen's isn't more of a well-known Dublin stop. 
Practical Info
Admission for the guided tours is free, and tours are available from June-September from 9:30am-5:30pm.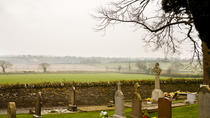 200 Reviews
Do you want to find out what happened to the lost souls of medieval, plague-ravaged Dublin? This bus tour is your chance to do just that! Visit eerie yet ... Read more
Location: Dublin, Ireland
Duration: 2 hours (approx.)