Bedouin Camp Tours
The Bedouin people are a desert-dwelling ethnic group found throughout the Arabian peninsula. While rapid modernization throughout the region has led a majority of these former herders and nomadic traders to seek new livelihoods in the cities, it's still possible for visitors to experience a night in a traditional Bedouin camp.
Located in the dunes of the Dubai Desert far from any signs of permanent human habitation, these camps offer visitors a glimpse into what it might have been like for a Bedouin family trying to survive in the harsh desert landscape. A typical evening will include a barbecue dinner, shared while seated on Arabian rugs, a belly dancer and time to chat over a hookah -- a type of water pipe used to smoke shisha.
The experience could end there, or you can opt to spend the night at this desert camp beneath the stars. To make the most of your time in the desert, combine your Bedouin camp experience with a camel safari or sand boarding excursion.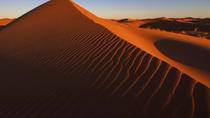 252 Reviews
Enjoy an exciting dune bash and BBQ dinner under the stars on this 6.5-hours desert experience from Dubai. Travel into the rolling red dunes of the Lahbab ... Read more
Location: Dubai, United Arab Emirates
Duration: 6 hours (approx.)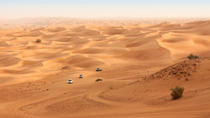 401 Reviews
Venture into the desert and enjoy a quad bike ride, barbecue dinner and traditional Emirati entertainment on this 5-hour 4x4 safari from Dubai. As the sun ... Read more
Location: Dubai, United Arab Emirates
Duration: 5 hours 30 minutes (approx.)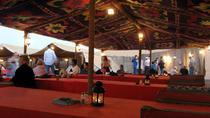 2 Reviews
Desert safari Dubai be the best choice anyone can pick from the wide range of tours available to pick for anyone in Dubai. We guarantee the best value for ... Read more
Location: Dubai, United Arab Emirates
Duration: 6 hours (approx.)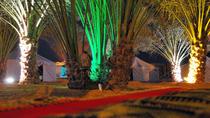 3 Reviews
Enjoy a memorable desert sleepover and plenty of fun activities on this overnight experience from Abu Dhabi. Perfect for families, singles or for a private ... Read more
Location: Abu Dhabi, United Arab Emirates
Duration: 1 day (approx.)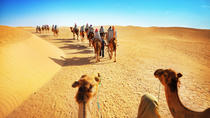 257 Reviews
Ride a camel through the desert and enjoy dinner at a Bedouin-inspired camp on this exciting 7-hour experience. Leave Dubai in an air-conditioned minivan and ... Read more
Location: Dubai, United Arab Emirates
Duration: 7 hours (approx.)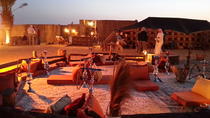 291 Reviews
Pass through the desert in a vintage Land Rover and spend an evening dining under the stars at a Bedouin-inspired camp, tucked away in the grounds of a royal ... Read more
Location: Dubai, United Arab Emirates
Duration: 7 hours (approx.)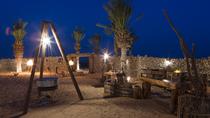 19 Reviews
Eat and sleep under the starry desert sky at a Bedouin-inspired camp on this overnight experience from Dubai! After traveling through Dubai Desert Conservation ... Read more
Location: Dubai, United Arab Emirates
Duration: 16 hours (approx.)