Curacao (Willemstad) Cruise Port Tours
Located off the coast of Venezuela, this tiny island nestled in crystal blue waters was once the center of commerce for the region. Today, the influence of French, Dutch and Portuguese traders can be felt in the food, architecture and culture of this unique island. Tour the historic forts or spend a day snorkeling in the nearby coral reefs, which draw divers from across the globe to its calm, clear waters.

How to get to Curacao

Most cruise ships dock right in the cosmopolitan capital city of Willemstad. The area is divided into two districts connected by a floating pedestrian bridge. The tourist-friendly city is full of storefronts and cafes that are easily accessible on foot.

One day in Curacao

Stop at one of the nearby cafes for breakfast before hopping a taxi to Seaquarium Beach. The white sands of this quiet retreat are just a short taxi ride from port. After spending the afternoon lounging in the Caribbean sun and snorkeling off the coast, head back to Willemstad and visit the UNESCO World Heritage Site, which played a vital role in early slave trade. First-time visitors can also skip the beach and join one of the popular half-day motor coach tours, which typically includes the Curacao Museum, Hato Caves, and a visit to Chobolobo, where famous Curacao liqueur is made.
Port Information
Most major cruise lines dock in Willemstad during visits to Curacao. The Netherlands Antillean Florin is the official currency of Curacao but most shops and cafes near port accept U.S. Dollars. ATMs and money exchange offices are easy to find. English, Dutch and Spanish are widely spoken on the island.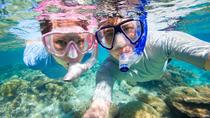 1 Review
When your cruise ship docks in Curacao, take time to explore its colorful underwater world on a snorkeling boat tour from Willemstad. Your experienced guide ... Read more
Location: Curacao
Duration: 2 hours 30 minutes (approx.)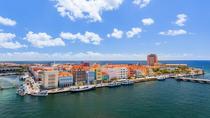 3 Reviews
Explore the island of Curacao while in port on this Caribbean shore excursion! Discover the beauty of Curacao as you ride through the island, where you'll see ... Read more
Location: Curacao
Duration: 6 hours (approx.)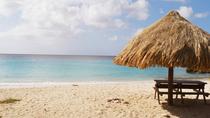 2 Reviews
While you're in port in Curacao, spend a half day in the sparkling, secluded bay of Playa Porto Mari. Dig your toes into the white sand, and if you're ... Read more
Location: Curacao
Duration: 4 hours (approx.)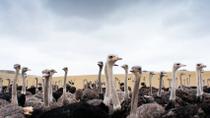 2 Reviews
While you're in port in Curacao, enjoy an educational and interactive experience on a shore excursion! On this family-friendly adventure, get to know the ... Read more
Location: Curacao
Duration: 4 hours (approx.)