Palancar Reef Tours
The star attraction of Cozumel Reefs National Park (Parque Nacional Arrecifes de Cozumel), Palancar Reef is a rich underwater landscape ideal for snorkeling and scuba diving. Aquatic species thrive amidst these colorful corals, including sea turtles, rays, nurse sharks, barracudas, moray eels, and a kaleidoscope of colorful fish.
The Basics
A snorkeling or scuba diving excursion is one of the best way to experience Palancar Reef, allowing you to see the area's robust wildlife and varied coral structures. Some diving and snorkeling tours visit Palancar along with nearby Columbia Reef and El Cielo marine park—a sandy, starfish-filled expanse of blue Caribbean ocean. Other excursions combine snorkeling with a sailing trip or island beach party. Most tours leave from the marina in downtown Cozumel, Palancar Beach (Playa Palancar), or from your hotel pier, while some excursions include round-trip transportation from Playa del Carmen.
Things to Know Before You Go
Palancar Reef is a must-see attraction for wildlife lovers, families with kids, snorkelers, and scuba divers.

Remember to bring sun protection, a swimsuit, and plenty of water.

It's a good idea to wear a wetsuit or rash guard while diving or snorkeling to protect against the sun, jellyfish, and rough coral surfaces.

Be careful not to touch or disturb the wildlife.

Evidence of dive certification is required to participate in certified dives.

How to Get There
Palancar Reef is located off the island of Cozumel near Mexico's Yucatan Peninsula. The closest access to the reef is Palancar Beach, a laid-back public beach close to the intersection of Avenida Melgar and the Costera Sur. Taxis, car rentals, and motor scooters are the most popular ways to travel on the small island of Cozumel.
When to Get There
You can visit Palancar Reef year-round, but it's busiest from December through April, when the weather tends to be sunny and warm. There are fewer crowds during hurricane season (May through October), but be sure to check the weather for storms.
Must-See Dive Sites at Palancar Reef
While snorkelers typically visit the shallowest parts of Palancar's coral reefs, scuba divers have several world-famous spots to explore. The Palancar Caves are probably the most famous dive site, with huge brain corals and swim-through tunnels. Palancar Horseshoe is another massive formation of huge corals. Less experienced divers can visit Palancar Gardens, a shallower spot with mellow currents.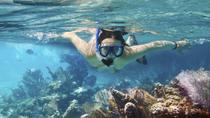 56 Reviews
Hop aboard a glass-bottom boat and snorkel at prime locations offshore from Cozumel on this half-day guided tour in Cozumel Reefs National Marine Park. At El ... Read more
Location: Cozumel, Mexico
Duration: 4 hours (approx.)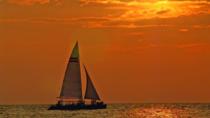 33 Reviews
This Caribbean Combo tour is a combination of all the must do activities in Cozumel! Start with snorkeling the crystal clear turquoise waters at the famous ... Read more
Location: Cozumel, Mexico
Duration: 3 hours 30 minutes (approx.)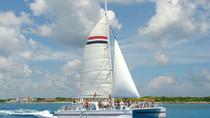 12 Reviews
Party in Paradise! Meet new people, snorkel on world renowned reefs and experience the well known party life of Mexico. Do it all onboard this custom made ... Read more
Location: Cozumel, Mexico
Duration: 5 hours (approx.)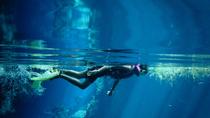 3 Reviews
This snorkeling adventure is ideal for families or groups who want to combine snorkeling at two wonderful sites in one experience, starting from the mainland.
Location: Playa del Carmen, Mexico
Duration: 7 hours (approx.)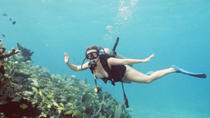 1 Review
Even if you're not staying in Cozumel, you can still experience the famous dive sites in the region. Departing from Cancun, you can enjoy two dives at some of ... Read more
Location: Cancun, Mexico
Duration: 11 hours 30 minutes (approx.)