Columbia Reef Tours
There's no arguing that Cozumel, Mexico, has some of the world's best diving, and Columbia Reef is one of the highlights of visiting the Caribbean island. It isn't just divers and snorkelers, however, that congregate in these waters, but schools of snapper and barracudas, turtles, eagle rays, and grunts, as well as colorful scorpion fish or even a passing shark. While the wealth of marine life is reason enough to visit, it's the underwater architecture that gives Columbia its fame, where arches and tunnels sit between spires of live, colorful coral. At Columbia Shallows, snorkelers, photographers, and novice divers explore a reef where depths rarely exceed 40 feet, whereas divers looking to drop even deeper explore Columbia Deep. Because of its relative proximity to Cozumel, Columbia Reef is best explored with a snorkeling or diving tour departing from the marina in town.
Insider Tip: To attract a larger amount of marine life, minimize your motions when snorkeling or diving and let the fish come to you.
Practical Info
For scuba divers, Columbia Shallows is often used as a second dive location, with the first dive being at Columbia Deep or one of the surrounding reefs. Even if visiting Cozumel for a day, it's possible to snorkel or dive the reef and still return in time for your cruise ship or ferry back to Cancun.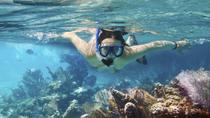 50 Reviews
Hop aboard a glass-bottom boat and snorkel at prime locations offshore from Cozumel on this half-day guided tour in Cozumel Reefs National Marine Park. At El ... Read more
Location: Cozumel, Mexico
Duration: 4 hours (approx.)