665 Reviews
Address:

British territory, located on the southern coast of Spain, Spain
There's really nowhere quite like Gibraltar: a little piece of England looking out from Spain to the coast of Africa with a rock fabled in ancient mythology and the only wild monkey population in Europe. Gibraltar was handed over to the British by Spain in the 18th century, and British it has remained ever since, despite Spain's best efforts to get it to accept its sovereignty. The famous Rock of Gibraltar is a chunk of limestone rearing up over the city and overrun by Barbary macaques—legend says that if these monkeys leave the rock, so will the British leave Gibraltar.
The Basics
Many travelers visit Gibraltar on a day trip from other destinations on the Costa del Sol, such as Malaga, Marbella, Cadiz, or Tarifa. Aside from journeying by cable car to the top of the fabled rock for its stellar views of the Spain and Morocco coastlines, visitors to this unusual slice of Europe can catch a concert inside St. Michael's Cave, shop duty-free using the Gibraltar pound along Main Street, tour the Moorish Castle, or go dolphin-watching in the Bay of Gibraltar.
Things to Know Before You Go
Choose from half- and full-day tours to Gibraltar from a variety of Costa del Sol destinations.

Day trips last anywhere from five to 12 hours and often include roundtrip transportation.

Remember to bring your passport; you'll need it to cross into Gibraltar and back into Spain.

Euros are accepted in many of Gibraltar's shops and restaurants.

When visiting the Gibraltar rock, be careful of the monkeys; they're known to snag sunglasses or other loose items from unsuspecting tourists.

How to Get to Gibraltar
The Gibraltar International Airport has daily flights to and from London, Birmingham, Manchester, and Marrakech. A popular alternative is the Malaga Airport 75 miles (120 km) to the east. The easiest way to reach Gibraltar from Spain is on an organized tour, but independent travelers can also reach the border by bus from Seville, Malaga, Cadiz, Granada, and Algeciras. Those driving should expect long delays at the Spanish border.
When to Get There
For the best combination of warm, comfortable weather and fewer crowds, plan your Gibraltar trip during spring or autumn. July, August, and September are the hottest months (average highs in the mid 80s F (29° C), but sea breezes often keep the temperature comfortable. Most of Gibraltar's rainfall occurs during November, December, and January, but typically only in short spells.
The Great Siege of Gibraltar
In 1783 Spanish and French forces made an unsuccessful attempt to capture Gibraltar from the British, who were at the time distracted by the Revolutionary War. The siege lasted for three years and seven months—the longest ever endured by the British armed forces. The labyrinth of underground passages known as the Great Siege Tunnels were largely responsible for the British victory; today, they are open to visitors and remain one of history's most impressive examples of defense engineering.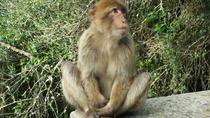 1 Review
Private half day tour in Gibraltar visiting its Nature Reserve: Pillars of Hercules, St. Michael's cave, the monkeys - Barbary macaques & the Great Siege ... Read more
Location: Marbella, Spain
Duration: 5 hours (approx.)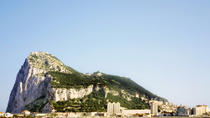 286 Reviews
On this day trip from Malaga, travel across the border from Spain to Gibraltar, a British territory most famous for its Rock of Gibraltar. See top Gibraltar ... Read more
Location: Malaga, Spain
Duration: 12 hours (approx.)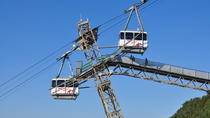 23 Reviews
Reach the top of Gibraltar in just 6 minutes on the Cable Car and witness the breath taking views.
Location: Gibraltar, Gibraltar
Duration: 6 minutes (approx.)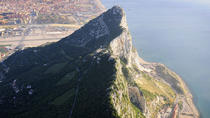 19 Reviews
A 2-hour Rock Tour to see the most important landmarks in Gibraltar. A small-group will be guided around by a professional and knowledgeable tour guide.
Location: Gibraltar, Gibraltar
Duration: 2 hours (approx.)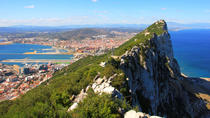 275 Reviews
Cross the border from Spain into British territory, where you can see British policemen, spend British money and enjoy the duty free shopping. Enjoy a tour of ... Read more
Location: Costa del Sol, Spain
Duration: 12 hours (approx.)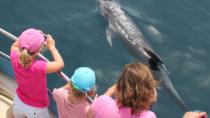 8 Reviews
Have an amazing experience sailing among dolphins. With a high success rate for finding the dolphins, and a 99% guarantee, all passengers can sit back and ... Read more
Location: Gibraltar, Gibraltar
Duration: 90 minutes (approx.)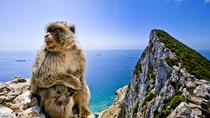 Visit the famous British city of Gibraltar and Bolonia Beach, considered one of the most beautiful in Spain, during this private 8-hour day trip from ... Read more
Location: Cádiz, Spain
Duration: 8 hours (approx.)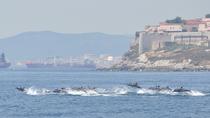 14 Reviews
See Gibraltar's dolphins wild and free! Sail The Bay of Gibraltar with Dolphin Adventure for a wild dolphin safari. The crew and captain will guide you on a ... Read more
Location: Gibraltar, Gibraltar
Duration: 75 minutes (approx.)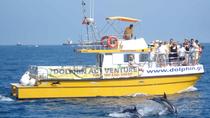 19 Reviews
See Gibraltar's dolphins wild and free! Sail The Bay of Gibraltar with Dolphin Adventure for a wild dolphin safari. The crew and captain will guide you on a ... Read more
Location: Gibraltar, Gibraltar
Duration: 75 minutes (approx.)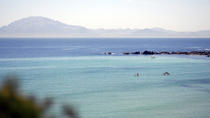 1 Review
Enjoy three hours kayaking inside the Strait of Gibraltar and between the ancient Pillars of Hercules with Velair. The stunning views from Africa and mountain ... Read more
Location: Tarifa, Spain
Duration: 3 hours (approx.)