Only Show: Boat Rental | Float Trips | Flyboarding | Jet Boats & Speed Boats | Kayaking & Canoeing | Other Water Sports | Parasailing | River Rafting & Tubing | Scuba Diving | Snorkeling | Stand Up Paddleboarding | Surfing & Windsurfing | Tubing | Waterskiing & Jetskiing | White Water Rafting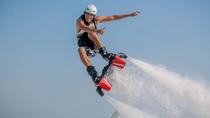 FlyBoard courses, in Cartagena de Indias, Colombia. Come and be part of this new experience where you can fly like a super hero and swim like a dolphin. ...
Location: Cartagena, Colombia
Duration: 40 minutes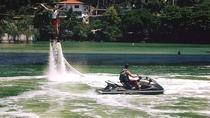 A  Flyboard  is a brand of hydroflighting device which supplies propulsion to drive the Flyboard into the air to perform a sport known as  hydroflying . A ...
Location: Rio de Janeiro, Brazil
Duration: 60 minutes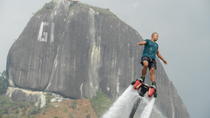 It is a new sport that has revolutionized the world. It is a board which allows the elevation in the air by two water jets generated by a good propulsion Jet ...
Location: Medellín, Colombia
Duration: 30 minutes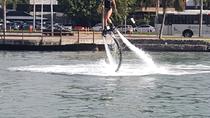 Flyboard is a French invention of racing driver Frank Zapata, who has spent several years designing and developing the product. This is a board similar to a ...
Location: Rio de Janeiro, Brazil
Duration: 3 hours