From the ramshackle souks that sprawl through the Old Medina to the array of Mauresque and Art Deco style buildings constructed under General Lyautey's French rule, Morocco's largest city is full of dramatic contrasts. The central district of Casablanca is where most tourists will spend most of their time, with the majority of attractions clustered around United Nations Place, Mohammed V Square and Mohammed V Boulevard. Highlights include the Casablanca Cathedral, the Court of Justice, Marche Central, and to the north, the Old Medina, renowned for its labyrinth of souks.
Southeast of the central district, the Quartier Habous (Habous Quarter), often dubbed the 'New Medina', is characterized by its French colonial buildings and small crafts souks. A picturesque spot for a walking tour, the Habous is home to landmark buildings like the Royal Palace of Casablanca, the Mahakma of the Pasha and the Mohammed V Mosque.
Stretching west of the port and the magnificent Hassan II mosque, the coastal suburb of Ain Diab is centered around the 3km long seafront Corniche and is one of Casablanca's trendiest districts, dotted with nightclubs, restaurants and beach resorts. Along with the scenic boardwalk and swimming areas, highlights of the area include the mausoleum and shrine of Sidi Aberrahman and the El-Hank Lighthouse. Further west, the affluent residential district of Anfa is one of Casablanca's oldest neighborhoods and now boasts a number of grand mansions and luxury hotels.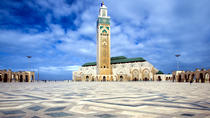 4 Reviews
Explore the cultural, historical and economic center of Morocco. Casablanca or what most people call it Dar El Beida sightseeing tour is a great way to get an ... Read more
Location: Casablanca, Morocco
Duration: 4 hours (approx.)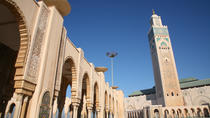 39 Reviews
Get to know the cultural, historical and economic center of Morocco on this Casablanca sightseeing tour. This 3-hour morning or afternoon coach tour introduces ... Read more
Location: Casablanca, Morocco
Duration: 3 hours (approx.)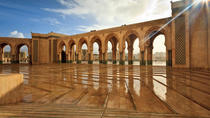 6 Reviews
Casablanca is one of the largest cities in Africa! It has a contrast with culture, traditions and modernity. Casablanca features two of the biggest shopping ... Read more
Location: Casablanca, Morocco
Duration: 4 hours (approx.)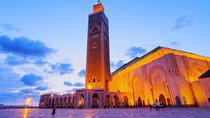 3 Reviews
Casablanca half day sightseeing tour with private tour guide and private vehicle to visit the famous sights in Casablanca or "White House", in Arabic Dar El ... Read more
Location: Casablanca, Morocco
Duration: 4 hours (approx.)
Explore Casablanca, in the most memorable Half-day Tour. As one of the most detailed tour of all Casablanca in a typical morning, by an air conditioned ... Read more
Location: Casablanca, Morocco
Duration: 4 hours (approx.)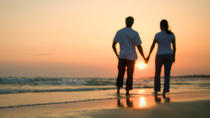 Love is constant; passion needs recharging! Live the emotion of places which gave its name to the classic movie 'Casablanca' with Humphrey Bogart and Ingrid ... Read more
Location: Casablanca, Morocco
Duration: 4 days (approx.)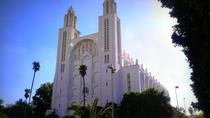 Discover Casablanca from a local's perspective on a Casablanca city tour. Trace the rich history of Morocco's economical capital as you hear ... Read more
Location: Casablanca, Morocco
Duration: Flexible