The curious landscapes of Turkey's Cappadocia region resulted from thousands of years of volcanic activity, erosion, and human input, which helped shape tuff, a porous rock formed by volcanic debris, into unexpected forms. From formations forged by nature to man-made rock structures, here's where to find Cappadocia's top rock formations.
Devrent Valley (Imagination Valley)
Devrent Valley is known for its lunar-like landscapes and sculptural rock formations, many of which, despite being the work of nature, appear as though they were shaped by human hands. Look out for fairy chimneys (tall spires of rock topped by a larger, harder piece of rock) and formations that—if you tilt your head at the right angle—resemble animals, including camels and seals.
Göreme Open-Air Museum
A must-see site in Cappadocia, Göreme Open-Air Museum is home to a collection of rock-carved churches, chapels, and monasteries created by Byzantine monks. The highlight of the site is Karanlik Kilise, a rock church filled with well-preserved religious frescoes.
Underground Cities
While most of Cappadocia's rock formations are visible above ground, there are also some spectacular subterranean sites. The underground cities of Derinkuyu and Kaymakli feature a network of underground tunnels and rooms carved directly into the volcanic rock.
Ihlara Valley
A popular hiking spot in the region, the Ihlara Valley is known for its 8.6-mile (14-kilometer) gorge, which plumb depths of up to 328 feet (100 meters). The red-rock walls of the gorge are steep and sheer in parts, and man-made cave churches are peppered throughout the valley.
Three Graces
Also known as the Three Beauties, this trio of fairy chimneys in Ürgüp is one of the most-photographed formations in the region. According to local legend, the stones represent a princess, her shepherd husband, and their child, all of whom were turned to stone—according to the princess' wishes—after her father, the king, ordered they be killed.
Love Valley
The euphemistically named Love Valley is the butt of many jokes, thanks to its cluster of phallic-shaped pillar formations. Formed by the gradual erosion of the soft volcanic rock, some of these pillars reach heights of up to 130 feet (40 meters).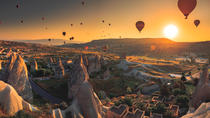 34 Reviews
Discover the stunning landscape of the Cappadocia region of Turkey from a hot-air balloon! Admire Cappadocia's beautiful scenery of tall, volcanic rock spires ... Read more
Location: Cappadocia, Turkey
Duration: 3 hours 30 minutes (approx.)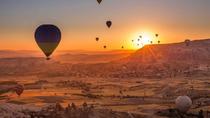 6 Reviews
Hot air ballooning is one of the most unique and popular attractions in Cappadocia. Enjoy a light breakfast then a minimum of 1-hour flight time in the air. ... Read more
Location: Göreme, Turkey
Duration: 12 hours (approx.)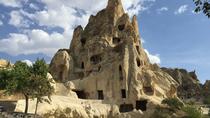 8 Reviews
This 10-hour guided day tour offers all of the must-see places in Cappadocia. Fairy chimneys and other rock formations, cave churches decorated with fine ... Read more
Location: Göreme, Turkey
Duration: 8 hours (approx.)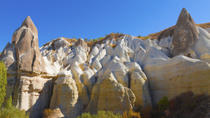 19 Reviews
Take time out to tour Turkey's famous moon-like landscape of Cappadocia — on a two-day excursion from Kayseri. You'll visit UNESCO World Heritage Sites like ... Read more
Location: Cappadocia, Turkey
Duration: 2 days (approx.)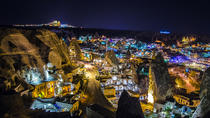 Our tour start 30 minute before from sunset Uchisar Castle Göreme Panoroma Ortahisar Panoroma Dinner Ürgüp Panoroma Avanos city tour Çavuşin Read more
Location: Göreme, Turkey
Duration: 4 hours (approx.)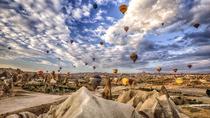 2 Reviews
Visit the Devrent Imagination Valley, Zelve Open Air Museum, Pasabaglari, Fairy Chimneys, Avanos, Uchisar Rock-Castle, Esentepe and Goreme Open Air Museum.
Location: Göreme, Turkey
Duration: 1 day (approx.)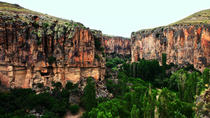 Göreme Panorama, Derinkuyu Underground City, Ihlara Valley Hiking (one hour), lunch, Yaprakhisar Panorama, Selime Monastry, Pigeon Valley, Onxy and Stone ... Read more
Location: Göreme, Turkey
Duration: Flexible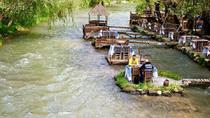 3 Reviews
Enjoy your full day Cappadocia green small group city tour. Start in Göreme for a tour around Esentepe, Derinkuyu Underground City, Ihlara Valley and ... Read more
Location: Göreme, Turkey
Duration: 1 day (approx.)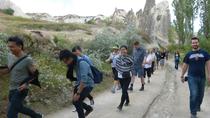 Start the tour with a spectacular view over Göreme from Esentepe. You will see the complete view of Göreme valley and Göreme village: fairy ... Read more
Location: Ürgüp, Turkey
Duration: 1 day (approx.)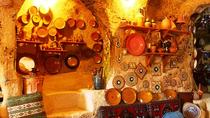 Discover the best of Cappadocia on this full-day Regional Tour covering Goreme Open-Air Museum, Devrent Valley, Pasabag, Avanos town and more. Watch a live ... Read more
Location: Göreme, Turkey
Duration: 8 hours (approx.)