895 Reviews
Address:

Tulum, Riviera Maya & the Yucatan, Mexico

Admission:

Free
Tulum Tours
Tulum, the site of a Pre-Columbian Maya walled city and a port for Coba, is one of the best preserved coastal Mayan cities in the Yucatan, in tandem with Chichen Itza and Ek Balam. Highlights of this archaeological site include the Temple of the Frescoes, which has spectacular figurines of the 'diving god.'
The Basics
Just a short trip from the Hotel Zone of Cancun and next to the Caribbean Sea, the spectacular Tulum ruins are an ideal spot to explore some of the Yucatan's Mayan history. Perched on a rugged coastline, the ruins are modest but well-preserved and boast stunning views of the seaside area. Stroll through the ruins on a self-guided tour, or sign up for one of the many available Tulum tours guided by an archaeologist. Consider booking an early-access tour to avoid having to compete for space with large tour groups.
Things to Know Before You Go
Both small-group tours and private tours are available.

The Tulum ruins are a perfect destination for history buffs.

Sun protection is a must, so consider bringing a hat, sunscreen, water, and light clothing.
How to Get to the Tulum Ruins

Day trips to the Tulum ruins are available from Cancun, Puerto Vallarta, the Riviera Maya, Playa del Carmen, and other locations in Quintana Roo.

When to Get There
As with most popular attractions in subtropical Mexico, the earlier you arrive, the better—walking through the Mayan ruins is a lot more pleasant without the midday sun beating directly down on your head. April through October is considered low season, while you'll see fewer crowds and a little bit of rain in September and October. The rest of the year, the tourist industry is in full swing with heavy crowds, so consider an early-access tour.

Things to Do in Tulum Besides Visiting the Ruins
The ruins are set against a backdrop of some of Mexico's best beaches, such as Akumal, that are ideal for diving and snorkeling. Whale sharks frequent the area from June to September, so if you visit during that time, be sure to book a tour that combines a trip to the ruins with a snorkel expedition to get your own whale shark experience. Tulum also has popular freshwater cenotes and passageways to an underground river.
Boca Paila Beach is a pristine area yet to be invaded by big-name resorts. Local craft markets sell souvenirs, and you can watch the Mayan pole flyers on a walk around town. Tulum Beach Road takes travelers to the Sian Ka'an Biosphere and Punta Allen for swimming in the clear waters, while further along is Tulum Pueblo with its quaint local shops and restaurants.
1 Review
Save time and take advantage of this entrance ticket to the Mayan Ruins of Tulum and skip up to 1-hour lines in the sun. Explore Tulum and enjoy ... Read more
Location: Cancún, Mexico
Duration: 1 to 6 hrs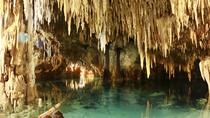 118 Reviews
This is the perfect 3-in-1 combination tour of the Riviera Maya. You'll visit the Tulum ruins, then go snorkeling in the colorful coral reef in the Caribbean ... Read more
Location: Cancun, Mexico
Duration: 8 hours (approx.)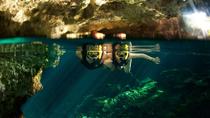 75 Reviews
There's no shortage of adventure and spectacular sites on this full-day tour from Playa del Carmen. Wander the ancient blufftop city of Tulum, stroll along its ... Read more
Location: Playa del Carmen, Mexico
Duration: 9 hours (approx.)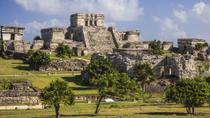 200 Reviews
Reveal the mysteries of ancient Mayan civilization with this Cancun Super Saver, a full-day adventure to Tulum and Coba combining two best-selling tours at a ... Read more
Location: Cancun, Mexico
Duration: Flexible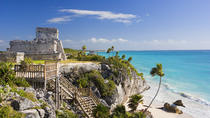 54 Reviews
Enjoy a scenic 45-minute ferry ride to Playa del Carmen, then take an air conditioned bus to the walled city of Tulum, in which you will explore restored ... Read more
Location: Cozumel, Mexico
Duration: 6 hours (approx.)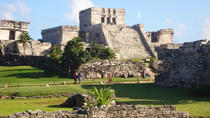 29 Reviews
Enjoy this amazing one day combo tour as you visit Coba Ruins, Cenote Choha, Tulum Ruins and the beautiful Paradise Beach. You'll have an amazing experience as ... Read more
Location: Playa del Carmen, Mexico
Duration: 10 hours (approx.)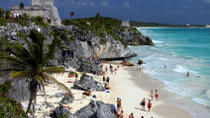 32 Reviews
Visit the Mayan city of Tulum, one of the greatest archeological sites along the Riviera Maya! This former Mayan trade site, located on a cliff-side beach ... Read more
Location: Cancun, Mexico
Duration: Flexible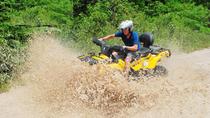 4 Reviews
Enjoy a trip in the Mayan jungle riding an ATV and snorkeling in the crystal clear waters of an underground river.  You'll also get to visit Tulum and enjoy ... Read more
Location: Playa del Carmen, Mexico
Duration: 7 hours (approx.)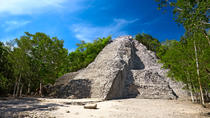 28 Reviews
This 12-hour guided tour takes you to the two most significant archaeological sites on the Riviera Maya such as the seaside city of Tulum, where ancient ruins ... Read more
Location: Playa del Carmen, Mexico
Duration: 12 hours (approx.)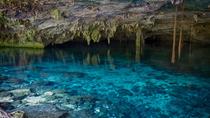 27 Reviews
This is the opportunity to go to one cavern cenote where you can swim and explore Tulum,  an ancient walled city of the Mayan culture.
Location: Cancún, Mexico
Duration: 7 hours (approx.)