Bay of Arcachon Tours
Planning a wine tasting trip to Bordeaux? Sounds like fun! But after, say, a full week of visiting vineyards and sipping wines, it's going to start to blur together and you may even start to get bored. Ah, the problems one has when vacationing in France!
Luckily, this delicious problem has an equally delicious solution – head out to the Bay of Arcachon, just an hour's drive or train ride away from Bordeaux, and one of those places you can't believe you've never heard of before. While it can be done in a day trip, it's best if you spend a couple days out there because there is an astonishing number of things to see and do in the Bay of Arcachon.
First, there is the Great Dune of Pyla. Yes, the largest sand dune in Europe, and desert-like in its size and height, is on the southwestern Atlantic coast of France! You can walk across it, or rent a dune buggy and take a joyride, or simply use it for a day at the beach with one hell of a view.
There is also L'île aux Oiseaux (Bird Island), where nature lovers can see a wide array of migratory birds while the rest of us can fantasize about living in the cabanes tchanquées (shacks on stilts) that sit out in the bay. And you can head back inland from the bay for a gorgeous bike ride through the Landes forest.
But the real star of the Bay of Arcachon can be found on tables at every cafe, bar and restaurant on the bay, and that's oysters. The bay yields roughly a kabillion oysters per year, and they're impossibly fresh, delicious, and cheap. You can even get them for breakfast! On Cap Ferret, on the Atlantic side of the bay, oyster farmers welcome you onto their back decks facing the sea and offer oysters washed down with local white wine. You can fortify yourself before climbing the steps to the lighthouse for a bird's-eye view of the bay!
19 Reviews
Enjoy a full day of gorgeous vineyards, stunning châteaux, fine wine and fresh oysters as you visit the Médoc wine region and the Bay of Arcachon for ... Read more
Location: Bordeaux, France
Duration: 10 hours (approx.)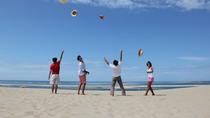 22 Reviews
Spend a morning away from Bordeaux on this half-day trip to the Bay of Arcachon. On this small-group tour, visit Pyla Dune (Dune du Pyla), the largest sand ... Read more
Location: Bordeaux, France
Duration: 4 hours 30 minutes (approx.)