Manmade Mahogany Forest Tours
The skinny, uniform trunks of red and white mahogany seem to erupt from nowhere along the road between Loboc and Bilar towns, a route frequented by traffic heading from eastern tourist towns to the Chocolate Hills. Their quiet and leafy canopy tunnels over the road forming a shady respite for visitors that extends for more than a mile. The trees were planted by volunteers in the middle of the last century in an effort to restore the destruction caused by kaingin, a form of slash and burn agriculture that decimated the original forest and was used by residents who sheltered in the region during WWII. Though beautiful—with tendril-like tree roots consuming above-ground boulders—the Manmade Mahogany Forest has drawn criticism for the decision to feature mahogany; the hardwood tree is native to South and Central America and foreign to many native species of plants and animals that remain absent from the scenic area. Fortunately, the mahogany stand is bookended by more naturally evolving forests containing native trees and ferns.
Practical Info
The Manmade Mahogany Forest is 20 miles (33 km) outside of Tagbilaran City between the towns of Loboc and Bilar on the curvy Loay Interior Road on the island of Bohol. The route is often frequented by tour groups headed to the Chocolate Hills, the region's primary tourist attraction.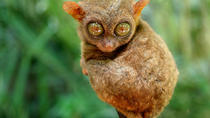 1 Review
Just a 2-hour ferry ride from Cebu, discover the history, culture and charm of Bohol. Come and see the enchanting Chocolate Hills, have lunch while cruising on ... Read more
Location: Cebu City, Philippines
Duration: 12 hours (approx.)