103 Reviews
Address:

Calle 16 No. 5-41, Bogotá, Cundinamarca, Colombia

Hours:

Tue-Sat 10am-6pm, Sun 10am-4pm

Admission:

2,800 pesos (<$2 USD)
Museo del Oro (Gold Museum) Tours
Among Bogota's most popular and spectacular attractions, the Museo del Oro sparkles with more than 55,000 priceless archaeological and artistic treasures. Only a fraction can be displayed at any one time within the main edifice, itself a work of art, ensconced in elegantly and eloquently designed displays of Colombia's dazzling bounty.

There are four floors of exhibits, signed in both Spanish and English, with audio guides available in a handful of other languages. From delicate filigree nose rings to carefully crafted containers for coca leaves to the famed "Muisca Raft," depicting the legend of El Dorado, the "Golden Man," these objects have been innovatively arranged to tell tales of pre-Colombian mining, manufacturing and metallurgy, as well as offer insight into the daily life, society, war and worship of these ancient Colombians.

The grand finale is the Offering Room, less an exhibit than light-and-sound show designed to recreate the experience of a shamanic religious ceremony, using tens of thousands of golden artifacts. The gift shop is also worth a wander as you exit the building.

Of course, all that glitters in Colombia is not gold, which is why you could consider crossing Santander Park to the Emerald Museum, actually a private collection of some 3000 Colombian emeralds. Views from the 23rd story of the Avianca Building are spectacular, but you must have picture ID to enter.
Gold Museum (Museo del Oro) of the Bank of the Republic of Colombia is an institution open to the public whose purpose is the acquisition, conservation and ... Read more
Location: Bogota, Colombia
Duration: 60 minutes (approx.)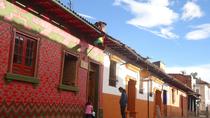 9 Reviews
Enjoy a personalized tour of Bogota's historic city center and get to know the most important places and their history. Visit Monserrate and La Candelaria ... Read more
Location: Bogota, Colombia
Duration: 5 hours (approx.)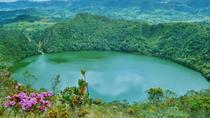 Meet one of the most unbelievable legends in Colombian history. Hidden in a spectacular landscape high in the Andean mountains is the Guatavita lagoon, whose ... Read more
Location: Bogotá, Colombia
Duration: Flexible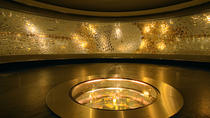 Travel in time to the pre-Hispanic era, learn all about the craftsmanship of the different indigenous cultures that inhabited Colombia and all the magnificent ... Read more
Location: Bogota, Colombia
Duration: 3 hours (approx.)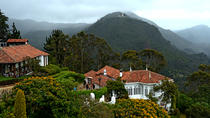 1 Review
Enjoy a 4-hour experience between the 26th street with 8th street of the iconic historic center of the capital in which you can discover the essence of the ... Read more
Location: Bogota, Colombia
Duration: 5 hours (approx.)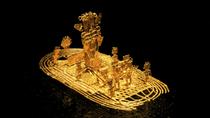 Embark on a trip to ancient times and unveil the miseries that motivated the Spanish colonizers to explore the American Continent in search of gold.
Location: Bogota, Colombia
Duration: 7 hours (approx.)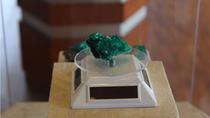 Get an in-depth look at Colombia's world-famous emerald industry during this 2.5-hour tour. Learn how emeralds are mined, processed and cut as you visit ... Read more
Location: Bogota, Colombia
Duration: 4 hours (approx.)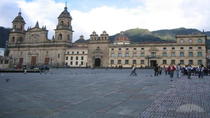 94 Reviews
Explore the city of Bogotá on this guided sightseeing tour to some of the most famous attractions in the city! Walk through the cobblestone streets of La ... Read more
Location: Bogotá, Colombia
Duration: 8 hours (approx.)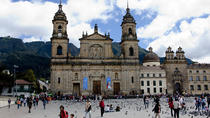 6 Reviews
This Layover City Tour is perfect for those short on time wishing to see the main points of interest in this fascinating city, additionally it is a perfect ... Read more
Location: Bogota, Colombia
Duration: 3 hours (approx.)
Get a full day of experiences getting to know Bogotá and visiting the Zipaquirá Salt Cathedral. This combo tour will show you the most characteristic ... Read more
Location: Bogota, Colombia
Duration: 10 hours (approx.)