Great Wall at Jiankou Tours
Jiankou is the adventurer's Great Wall of China—a completely unrestored section with crumbling mason work snaking along a wild mountain ridge 43 miles (70 km) northeast of Beijing. Day-trippers, hikers, overnight campers and photographers come to this part of the wall to escape the crowds and enjoy the sublime scenery that stretches for nearly 10 miles (14.5 km) along steep, jagged cliffs.

Built during the Tang Dynasty and renovated during the Ming Dynasty, the wall is dotted with interesting features, including the three-story Nine-Eye Tower, from which China's capital city can be seen on a clear day. At Beijing Knot, three segments of the Great Wall meet; it is from here that many visitors begin guided hikes between Jiankou and Mutianyu—the most popular Great Wall walk, taking anywhere from three to six hours. A guide can help travelers navigate the trickier areas, including the watchtower-topped hill named Eagle Flies Facing Upward, denoting that it's so steep even an eagle would have to fly almost vertically to reach the top. The stairs leading up to the tower are very steep and so narrow in some areas that only one person can pass at a time.
Insider's Tip: It's recommended that travelers wear long pants, as some of the hiking is among thick greenery.
Practical Info
Be sure to set aside an entire day for your visit to the Great Wall at Jiankou. The site is about a 2.5-hour drive from Beijing. Wear good walking shoes and be prepared for a climb up steep, uneven steps.
Did You Know? Unlike the brick sections of the wall closer to Beijing, the wall at Jiankou is made of local dolomite, making it much stronger than other sections.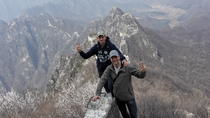 18 Reviews
Exploring unrestored and untouched section of the Great Wall of China from Jiankou to Mutianyu can grant magnificent views of the Great Wall stretching beyond ... Read more
Location: Beijing, China
Duration: 9 to 10 hrs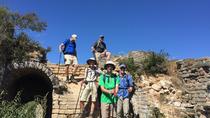 1 Review
If you like some challenge hiking experience and also want to avoid crowded tourists, this all inclusive private tour is a great fit for you. You will hike on ... Read more
Location: Beijing, China
Duration: 8 hours (approx.)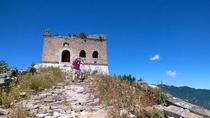 2 Reviews
Jiankou Great Wall is located in Badaohe village in the northwest of Huairou County in Beijing, about 30 kilometers away from Huairou County Town. It is also ... Read more
Location: Beijing, China
Duration: 8 hours (approx.)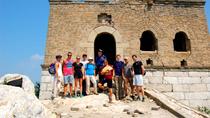 Walking from Jiankou Great Wall to Muitanyu Great Wall is much easier and safer for most first-time Great Wall hikers (hike eastward from Zheng Bei Lou, which ... Read more
Location: Beijing, China
Duration: 9 hours (approx.)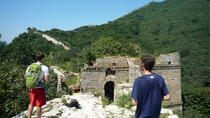 Jiankou to Mutianyu is a very popular Great Wall hiking route in Beijing. This is a breathtaking 10 km hike that combines wild and restored Great Wall. ... Read more
Location: Beijing, China
Duration: 8 hours (approx.)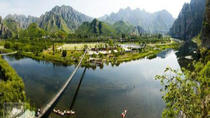 1 Review
While you are visiting Beijing, don't miss the opportunity to rent a private vehicle with a driver to visit beautiful Shidu National Park (2-hour driving ... Read more
Location: Beijing, China
Duration: 9 hours (approx.)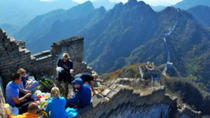 3 Reviews
Have a private car with a reliable driver to Great Wall at Jiankou. Explore Great Wall in a hassle-free and convenient way to avoid crowds and traffic. You ... Read more
Location: Beijing, China
Duration: 8 hours (approx.)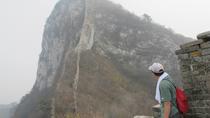 If you love adventure, this challenge Great Wall hiking tour fits you well. Hike from Jiankou to Mutianyu section of the Wall is the best way to witness the ... Read more
Location: Beijing, China
Duration: 8 hours (approx.)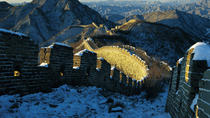 Jiankou and Mutianyu are the two unrestored and furthest sections of wall that you can visit in Beijing area. This challenging tour is designed for people who ... Read more
Location: Beijing, China
Duration: 8 hours (approx.)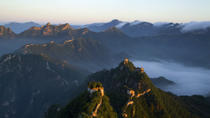 1 Review
This 2-day hiking adventure takes you along the Great Wall's untouched and restored sections of Jiankou, Mutianyu, Jinshanling and Simatai West. Escape from ... Read more
Location: Beijing, China
Duration: 2 days, 1 night